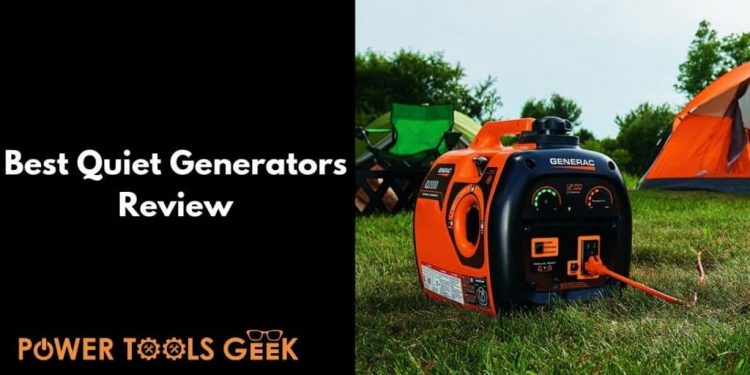 9 Best Quiet Generator Reviews – Your Perfect Choice in 2021
The biggest compliant we get from generators users is how loud their units are. This is quite understandable because if you're anything like me, you know that noise can drive you a bit crazy. This is not to mention that noisy generators are a nuisance to neighbors and fellow campers.
But isn't noise the price you've to pay to run a generator? Or is It? Let's have a look at the best quitest generators available in the market and worth buying.
Several generators in the market are remarkably quiet, and after thorough research, we found the Champion 4000 to be the best quiet generator.
But beyond the Champion 4000, we have compiled a list of the top ten quietest generators.
Comparison Table & Runners Up
Now, while noise is a vital generator aspect, it does not really contribute to the actual performance of your generator but rather more of a convenience feature.
In the section below, we shall highlight and compare other performance metrics of the top ten generators-that is beyond the noise rating.
Noise rating:64 dB

Wattage rating:35000

Weight:81.6

Fuel tank:2.9 gallons

Runtime at ¼ load:

17 hours

Noise rating:52 dB

Wattage rating:7000W

Weight:262 lbs

Fuel tank:5.6 gallons

Runtime at ¼ load:

18 hours

Noise rating:69dBA

Wattage rating:3300

Weight:94 lbs

Fuel tank:3.96

Runtime at ½ load:

12.3

Noise rating:58Db

Wattage rating:1000W

Weight:33 lbs

Fuel tanks: 0.8 gallons

Runtime at ¼ load:

7.2 hours

Noise rating:

Wattage rating:1600W

Weight:46.2

Fuel tank:1.06 gallons

Runtime at ½ load:

5.7 hours

Noise rating:51.5dB

Wattage rating:2000W

Weight:50.1

Fuel tank:1 gallon

Runtime at ¼ load:

10.3 hours

Noise rating:57 Decibels

Wattage rating:2000W

Weight:78 lbs

Fuel tank: 1.85 gallons

Runtime at ¾ load:

6 hours

Noise rating:56 dB

Wattage rating:2000W

Weight:44 lbs

Fuel tank:0.9 gallons

Runtime at ¼ load:

11.5 hours

Noise rating:51.5 dBA

Wattage rating: 1600W

Weight:44.1 pounds

Fuel tank:1.1 gallons

Runtime at ¼ load:

10.5
Top 9: Best Quiet Generators Review
If you're camping, you would naturally want to have a serene experience, devoid of any disturbance. In any case, the only noise that you would need to tolerate is that of the chirping birds or the soothing sound of the brook.
However, if you need to keep your RVing experience more "home-like," it's necessary that you've an energy source to provide you with power.
The ideal go-to solution is a generator.
But there's a catch; while a generator will provide you with the energy you need, you'll realize that most of them are noisy and having this unit by your side beats the whole idea of camping.
Fortunately, there's a solution; the ultra-quiet generators, perfect for camping and tailgating, are quiet enough and you'll not have trouble with your neighbors.
However, finding the perfect quiet generator is a challenging task, and it's for this reason we've created this comprehensive guide to help you find a generator for your needs.
1. Westinghouse iGen1200
If you a regular follower of my blog, you are aware that I'm a big fan of Honda and Yamaha generators for the longest time. This time, however, Westinghouse has really thrown the cat among the pigeons with the Westinghouse iGen1200.
Best small generator for the money, the iGen1200 is well-balanced, quiet and provides a variety of premium features at a great value.
The iGen is a neat looking generator, in a modern-looking durable plastic cover.
Standing out on rubber feet, this machine will not scratch your floor when in operation and most importantly, will eliminate the vibrations, thus reducing noise.
Besides the modest weight of 33 pounds, this unit comes a convenient handle that will boost on the portability of this unit.
For a budget option, you can expect several compromises, and one of them lies on the power.
Rated at 1000w, and with a surge output of 12000W, the iGen12000 is not the most powerful machine we have come across.
Nonetheless, the unit still offers a decent power output to keep the essential items in your RV or even in your household running.
Parallel Capability
If you still think that the 1000w is not sufficient to get you up and running, this unit provides for a parallel connection, and this will allow you to connect to another unit and hence double your output.
Now, while the power output is a bummer, you'll be glad to know that the 54cc 4-stroke engine on this generator runs likes a charm thanks to the economy throttle feature.
Though this generator has a tiny 0.8-gallons fuel tank, it will provide you with an incredible runtime of 7 hours at ½ load.
Like a majority of the quiet and fuel efficient generators, the iGene1200 runs on an inverter technology platform.
For starters, it means that this unit is exceptionally quiet (58 decibels), fuel efficient, but more importantly, it will provide you with a clean output, akin to that you get from your wall unit. As such, it makes this machine ideal for your sensitive equipment.
The iGen2000 does not feature an electric starter, which is quite unwarranted for such a small engine. Be that as it may, this unit is easy to start, and many reviewers, including seniors and the slim built individuals, have no problem getting the unit started.
2. Generac 6866 iQ2000
Generally, Generac are known for their standby generators, but they also manufacture a range of portable and quiet generators such as the Generac 6866 Iq2000. This model, in particular, is lightweight, extremely silent and boasts of decent power output.
Sporting a streamlined control panel, this unit is well-suited for both residential as well as recreational use.
Weighing only at 46 pounds, the Generac 6866 is easy to lift. Portability is further bolstered by the top-positioned handle, which makes carrying this unit practically effortless.
Again, this unit does not take up much dimensions of 20 x 12.6 x 16.9 in. When the size and weight of this unit are taken for, it makes this unit an ideal unit for the outdoor activities and is handy in instances where space is premium such as in an RV.
A step-up to the Westinghouse 1200 we have reviewed above, this unit boasts of a surge output of 2000W and a running output of 1600W.
Though not the highest output on our list, you can probably use this unit to power a myriad of your appliances, including your refrigerator, and small window conditioner.
Parallel Capability
With a parallel capability option, you can now boost your power output by connecting a similar unit alongside the Westinghouse 1200.
Quiet Power/Inverter Technology
Unlike the standard generators, this unit uses a different type of alternator, comprising of a digital inverter module that will not only help in generating clean power but will also reduce the noise generated drastically.
Ease of use on this generator is manifested in several ways.
For starters, the unit features a powerdial, a simple-to-use dial that integrates the start, runs and stops functions.
Secondly, the unit has all the controls easily accessible through the LED dashboard, which includes various control functions such as rest button for quick overload correction plus an exclusive Powerbar that will monitor and instantly display the wattage generated.
Finally, the unit comes with three modes of operation, which include:
-Turbo: Noisiest, but will allow you to enjoy the full power
-Economy mode: Great for a small load, and lets you enjoy less fuel consumption
-Standard: The middle ground between turbo and economy mode
3. Atima AY2000i
Are you looking for a generator that is both quiet and reliable?
If so, various generators fit the above description, but unfortunately, most of them are rather expensive.
The Atima AY2000i, however, is an exception, thanks to reasonable price plus value-added functionality.
Powering the Atima is a Yamaha engine, which has for a long time been famed for its reliability and consistent performance.
I know aesthetics are the least of your worries when choosing a quiet generator, but e can't fail to acknowledge the appealing allure of this unit.
Atima brings forth the legendary Japanese sensibility for a lustrous and alluring unit that is about as the candy as a generator can be.
When it comes to the actual design metrics, this unit is 45% more compact and 30% lighter than your standard portable generator.
Under the hood of the Atima, we have a single-cooled cylinder with 4-stroke, single phase gasoline engine.
This engine boasts of an output of 2000 surge watts, making this unit an ideal generator for all your household and RV appliances.
Parallel Connectivity
Like all the inverter generators we've reviewed above, the Atima comes with a parallel connectivity feature that will allow you to connect two units for a boosted power output.
Like all the inverters on our best quiet generators, the Atima is a quiet machine. The Atima leverages on the most technologically sophisticated muffler with a USFS-approved spark arrestor to dampen the noise to 51.5 decibels.
Sporting features such as the Smart Throttle, a load-sensing control that will allow for greater fuel efficiency and noise reduction by adjusting the engine speed to match the speed, the Atima is indeed one of the easy to operate machines.
4. Power Solutions PSC2200C
A product of Power Solution, the PSC2200C is yet another marvelous machine that will awe you with its superb performance.
An inverter generator, this unit will keep all your electronics safe and will not cause unwarranted destruction of your appliances.
Sporting a cuboidal design, with a dimension of 20.7 x 22.7 x 13 in and a weighing 78 pounds, the PSC2200C is definitely not a lightweight machine.
Gladly, the unit comes with a set of wheels, which are bought separately, and this help at improving the portability of the unit.
Featuring a 4-stroke 125cc engine, this unit boasts of a surge output of 2200W and a running output of 2000W.
If you know anything about generators, you know that this unit will provide sufficient power to keep your household as well as RV up and running.
The PSC2200C is an inverter generator, meaning it generates a clean output, free from any voltage fluctuations, and this will guarantee the safety of all your sensitive equipment.
Featuring a smart throttle function, this generator will automatically adjust the speed of the generator to match the load. And in effect, this will not only improve on the fuel consumption but will allow the generator to operate at quietly (57 decibels at 100% load).
5. Honda EU7000is
It always a real challenge to find a unit that is both reliable and a budget price. Often, most of the generators in the market are designed for occasional use and rarely will you find a generator that works to its rated capacity.
However, that comes to an end with the Honda EU7000is.
While a majority of Honda's suitcase generators are found dotting construction sites, the Euro series is famed for the mission-critical applications.
The Euros series, such as the Honda EU7000is is considered to be top of their class and we shall see whether it lives up to the legendary Honda Euro class.
Considering its capacity, this machine is deceptively heavy. In an actual sense, however, this machine is compact and highly portable.
The two-fold down handles alongside the high-quality rubberized wheels, not only provide this unit with better traction but improves mobility.
When it comes to power output, this generator is the real definition of a monster generator.
Bosting of a surge output of 7000w and a running output of 5500W, this generator is more than a residential unit but can double up as a commercial unit to tackle the power hunger appliances on your job site.
And the good thing about the output from this unit is that it generates a clean sine wave with a total harmonic distortion of a shocking 4%. Regardless of the size, the low THD makes this unit ideal for running all your sensitive appliances, including laptops, and smartphones.
The Honda EU7000is really light on gas; with its 5.1-gallon gas tank, this unit will keep you supplied with energy for 6.5 hours when running on full load and 18 hours when running on a quarter load. So, whether you plan to do a full-day event or stay up all night from dusk to dawn, the Honda EU7000is will provide you with the energy you need.
The noise levels are nothing short of a miracle: from a distance of 23 feet, this unit is eerily quiet and almost inaudible.
The noiseless operation on this unit is promoted by the presence of the rubberized feet alongside an advanced muffler system.
Beyond the conveniently placed controls, this generator has a plethora of safety controls function to guarantee a safe operation.
Most notably is the presence of a sensor, emergency shutoff system, and overload protection, which will collectively ensure that you always stay safe when operating your unit.
6. Energizer eZV2000P 2000W
The Energizer eZV2000P is one of the few models that easily hold its own when compared to other reputable models like the Honda or Yamaha.
The Energizer stands out because of its lightness, quietness, and price. If you are in search o a reliable, yet affordable option, you should consider purchasing this unit.
Featuring a suitcase style, this portable generator, weighing at 44 pounds and with a dimension of 20.1 x 11 x 17.5 in is compact and easy to carry. This is not to mention it will not offer much of a hassle when trying to store it.
Though compact, this generator can provide a lot of power.
Under the hood, we have a 79cc 4-stroke engine that will provide a peak output of 2000W and 16000 continuous power. Output aside, we love this unit because it runs smoothly while offering stable power at all loads.
If you feel the power generated by this unit is not sufficient, you will appreciate the presence of the parallel connectivity that will allow you to connect another generator for a boosted output.
'Advanced" Inverter Technology
This unit offers class-leading inverter dual-wave technology, and this will guarantee the safety of your electronics.
So, whether you plan to charge your cell phone or laptop, you can do it comfortably without worrying about a power surge causing any damage.
Though this unit comes with a small fuel tank at 0.9 gallons, the unit will provide you with a decent runtime, allowing you to handle all your applications.
For instance, when running a full load, this unit will provide you with a runtime of 4.2 hours, and when running on a quarter load, it will provide you with a runtime of 11.5 hours.
When the Eco-mode is triggered on this unit, the engine will automatically throttle to meet on-demand load.
As such, this unit will not only save on the gas but also reduce the noise generated as well as extend the life of the engine.
7. DuroStar DS4000S
For generator the size of DuroStar, it's not uncommon to find them loud, but for the DS4000S, it comes with an incredible silent performance, thanks to the super quiet muffler alongside a rubberized bottom.
Sound aside; the DuroStar DS4000s will provide you with an incredible value, especially considering the wattage generated by this unit and the price you've to pay. In fact, on our list of the best quietest generators, this unit delivers more watts per dollar than any of the generators.
The DuroStar is not big as far as conventional generators are concerned; weighing approximately 90 pounds and measuring 24 x 17 x 17 in. However, this is not a unit that you will go throwing around easily-at least not very far.
The good thing, this model comes with an optional kit, if you are not up to dragging the unit around.
Another design aspect we really loved is the heavy-duty steel construction that allows the generator to resist the stress from the harsh environment and bad weather. In addition, this unit comes with four-point, fully-isolated motor mounts that will allow the generator to operate better and last a long time.
Under the hood of the DuroStar is an air-cooled OHV engine, which is not only fuel-efficient but durable as well.
The 7HP engine is powerful enough to deliver a 4000-watt surge and 3300-surge continuous stream of energy, which will cater to all your household as well as RV power needs.
Unlike other generators, the DuroStar features a complete power panel that features all the necessary necessities including two 120V outlets and one 120V twist-lock outlet.
Other control functions on this unit include a voltmeter and a circuit breaker.
We really like the idea of protecting the control functions of this unit, which go ahead to ensure a longer lifespan when faced with harsh environments.
Featuring an advanced muffler system, this generator is ultra-quiet, generating a mere 69 decibels.
When comparing to other generators, the sound generated by the DuroStar is relatively quiet, but considering its small engine, we were hoping for something quieter. Or example, consider the Honda EU7000is we've reviewed above-it has a power rating of 7000W yet a noise rating of a mere 52 decibels.
8. Champion 4000
From the stables of the highly reputed Champion Power Equipment we've, the modern-looking Champion 4000 Digital Hybrid portable generator.
A hybrid option, this generator is a potent amalgamation of the power and strength o an open frame design plus the efficacy of an inverter generator.
A trusted ally during emergencies, this unit is one of the most advanced portable generators in the market.
Though the term "hybrid" sounds exciting, don't get tempted to thinks it's a dual fuel engine or rather it can switch from the inverter engine to a conventional engine.
Advanced Open Frame Inverter Design
Featuring an advanced digital hybrid design, the Champion 4000 is 20% lighter and 50% quieter than the traditional portable generators.
This advanced technology uses an efficient mechanical design to achieve a 20% reduction in the overall footprint and weight.
The result is a powerful, yet lightweight, inverter generator.
The Champion 4000 features a noise rating of 64 Dba, which is relatively quieter than similarly rated inverter generators.
The model's noise is cut to minimal levels thanks to a variety of quiet technology digital inverter parts such as the Economy mode function. This function, for instance, will monitor power usage in real time and adjust the speed according to the load.
This will not only help the unit to run quieter, but it also has long-term benefits such as extended engine life.
When it comes to fuel efficiency, this unit will provide the best results for portable generators in this class.
With its full 2.9-gallon fuel tank, this generator provides you with a remarkable runtime of 17 hours at ¼ load.
The power output that you get from the Champion 34000 is akin to that you get from your conventional wall output.
Using inverter technology, this unit generates a pure sine wave with a THD of <3%, and this is to mean you can safely power your sensitive equipment without worrying about their structural integrity.
Now, if you feel the 3500 running output is not sufficient for your needs, you can increase this power output to 7000 watts by hooking this unit to a similar unit through the parallel connection cable.
A perfect companion to your RV, this unit has the necessary connections for easy RV use. Some of the receptacles on this unit include two 120V 20A outlets, 12V DC automotive-style outlet, dual USB adapter, and 120V 30A RV.
The Champion 4000 is optimized for cold weather startup, and will not give you a cold should during startup.
9. Yamaha EF2000iSv2
If you've an insatiable curiosity for generators, you must have surely noticed "that blue generator" making rounds the news.
Honestly, the Yamaha EF2000Isv2, with a sleek blue allure, can never fail to catch the eye.
However, there is more than meets the eye with this unit; it's versatile, efficient, and most importantly, the silent of its kind.
This Yamaha unit is not the strongest generator we've seen. However, comparing this unit's size versus the output generated, it would be right to consider this generator a powerful one.
The Yamaha Ef2000iSvs boasts of producing a surge output of 2000W and a running output of 1600w, which is sufficient to light up your household or make your RV feel a lot more like "home."
The Yamaha, though it features a modest fuel tank with a capacity of 1 gallon, it will provide you with an excellent runtime of 10.5 hours at a quarter load capacity.
For optimal efficiency, we love the idea of the single-cylinder air-cooled engine, which isolates the heat generated and keeps the unit running efficiently.
Fuel efficiency on this unit is further promoted by the Smart Throttle technology; a load-sensing mechanism that will automatically adjust the speed of the engine and this will ensure that your engine is running optimally.
Beyond efficient fuel use and optimal performance, this function will allow this unit to operate quieter than other models.
Speaking of noise, a common complaint we get with most of the generator users is the noise their units produce.
Gladly, the Yamaha is an exceptionally quiet device that will generate only 51.1 decibels.
Sporting a Pulse Width Modulation function coupled with the pure Sine inverter system, the Yamaha will provide you with clean and stable output. The output generated on this unit offers both voltage and frequency that is compatible with your sensitive equipment, and it means you'll not have to worry about frying your appliances when using this device.
What Should You Look for in a Quiet Generator?
Generally, you can never go wrong with the above-listed generators, since they're some of the popular units in the market and more importantly, rated for the quiet operation.
However, understand that the final decision will depend on your need. Now, while the budget will play an integral role when selecting a unit, it should be more important than your need.
In any case, you would want to buy a generator that will not only address your needs but maybe even save you money in the long run, rather than a product that just saves your money.
That said, we advise that you go for a generator that makes you happy, and if you're still on the fence on which type to go for here is a buyer guide that might help you before making that crucial decision.
What to Consider Before Buying a Quiet Generator
Noise Measurements
Because you are looking for the quietest generator, noise rating should be among your primary factors when choosing a generator.
As such, it would be rudimentary that you've a basic understanding of what noise is all about.
Noise in generators is measured using a unit known as Decibels, which is a tenth (deci) of a bel. Bel is coined after its founder Alexander Graham Bel.
When the noise rating is rated at zero decibels, it does not mean that no sound is generated, but rather, it's the threshold of hearing, and it's the lowest sound that a human ear can decipher.
What is the Ideal Noise Rating of a Quiet Generator?
Generally, the acceptable noise rating or rather what most people consider as a low noise rating is between 50-65 decibels or less like what a running refrigerator or an air conditioning system generates.
Portability
Portability is of the essence, especially if you're an outdoor enthusiast who is always on the move, either camping, RVing or for whatever reasons.
The good thing is, most of the portable generators are small in size, and consequently much quieter. Generally, the size of a generator will not only affect the portability, but also the noise it generates.
Wattage Requirements
Obviously, when choosing a quiet generator, you would want to take into account your power requirements.
To calculate your total power requirement, you'll need to table all your appliances, and from here, you can determine your wattage requirement by adding all their surge wattage.
However, as we had mentioned above, the bigger the generator the sounder it is. Generally, the lower wattage devices are quieter than, the higher wattage units.
Fuel Type
Generators can as well be classified according to the fuel they use.
Popular fuel types in the market include gasoline, diesel, and battery power.
When it comes to noise, the battery-powered/solar panel generators are the quietest followed by gas and propane. Diesel generators, though more fuel-efficient than gas, are the loudest of all.
Inverter Technology
Generally, inverter generators are significantly quieter than the regular generators.
By and large, most of the inverter generators have a compact design, use a smaller engine, but most importantly have inverter specific functions such as the smart throttle feature.
The Smart Throttle feature, in particular, is a handy function that automatically adjusts the speed of the engine to match the load, thus allowing the generator to run optimally as well as generate less noise.
Conclusion
As you have seen, finding the best quiet generator is not too taxing because most of the manufacturers usually include the noise rating in their generators.
And again, we've provided you with a comprehensive review guide that should help you make an easy decision when choosing the best noiseless generator that will fit your needs and bill.