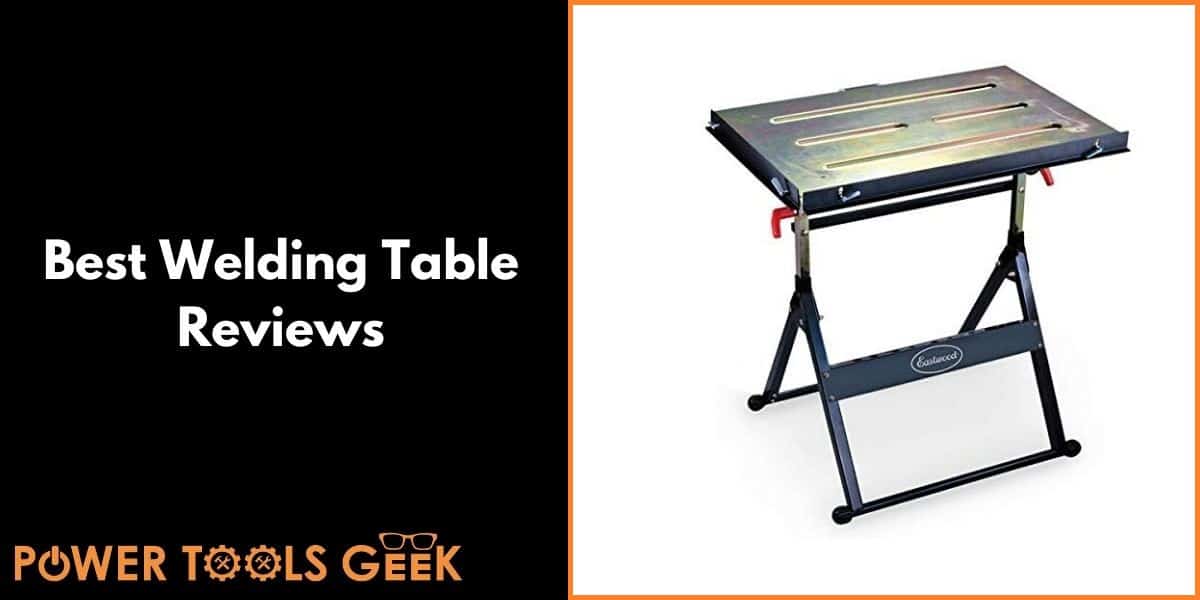 Best Welding Table Reviews for 2021 – Our Top Choices
A workshop is never complete without a working table.
See, a sturdy welding table is essential welding equipment and one that will promote a smooth, efficient, and safe welding experience.
After thorough research, we found out that the WORX Pegasus WX051 -was the best welding table in the market.
WORX Pegasus WX051 might be among the budget options on our list, but don't let that trick you into thinking it's a flimsy product. In reality, it's a functional unit that comes with a variety of performance features.
In particular, we love its versatility, given that it can easily switch from a tabletop to a sawhorse in a matter of seconds.
Weighing at 30 pounds, it's a lightweight product, and users had no issues moving it. Despite the lightness, it has a modest load capacity of 300 pounds, which we found quite ideal for a majority of the lightweight welding tasks.
Comparison Table & Runners Up
In the comparison table below, we shall highlight the top 7 welding tables in the market. Here we shall pit each of the welding tables and highlight their features as well as prices.
Hopefully, this comparison snippet should allow you to have a general idea of the table and make a quick comparison to determine which welder might suit your metalworking needs.
Table Top: 31"x 25" OR 725 sq. in
Dimension: 31 x 25 x 32 Inches
Weight: 30 lbs
Load capacity: 300 pounds

Table Top: 29" × 29"
Dimension: 50 x 30.3 x 7.3 inches
Weight: 74 pounds
Load Capacity: 500 pounds

Eastwood Adjustable Steel Welding Table

Table Top: 30" x 19.88"
Dimension: 30 x 19.9 x 32.9 inches
Weight: 30 pounds
Load Capacity: 350 pounds

Table Top: 24" diameter tabletop surface
Dimension: Overall height of 37-1/2"
Weight: 112 pounds
Load Capacity: 500 pounds

Table Top: 26″ to 32″
Dimension: 32 x 27.5 x 4 inches
Weight: 41.6 pounds
Load Capacity: 350 pounds

Chicago Electric Welding Adjustable Steel Welding Table

Table Top: 30 by 19-7/8 inches
Dimension: 30" x 20" x 32.5"
Weight: 36 pounds
Load Capacity: 350 pounds

Table Top: 48" x 30"
Dimension: 55 x 33 x 14 in
Weight: 515 pounds
Load Capacity: 1500lb
Top 7: Best Welding Tables
There're numerous reasons why you would want to have a welding table in your workshop.
For starters, a welding table is known for providing a stable and flat working surface, which will simplify your welding process.
In addition to the simplified welding process, some of the welding tables usually come with a variety of features such as adjustable height, guide rails, corner clamps, and tool storage. And collectively, these features will not only enhance job accuracy and save your time but will offer new and versatile possibilities in metalworking.
On the flip side, however, using low-quality welding tables is quite challenging as these tables don't offer the same stability and adjustability as the high-end products. In most cases, tools don't provide high value in terms of safety, leveling, and lifespan.
As such, it's always crucial that you're thorough when purchasing a welding table. Fortunately, there's no need to beat about it, because we've compiled a list of the top 7 welding tables in the market.
Our selection comprises of quality models that cut across the price spectrum and will last a lifetime, while faithfully complementing your trade.
1. WORX PegasusWX051 Multi-Function Work Table
In its purest form, Worx is essentially a supped up sawhorse. From the word go, this unit looks, works, and functions as a typical workhorse, but it comes with extra add ons such as two flip-out wings that form a table surface.
When configured as a table surface can hold up to 300 pounds, and when configured as a sawhorse, it can hold a whopping 1,000 pounds. Either way, it's quite a promising work table, and users were quite satisfied with the performance of this unit.
First things first, simple as it is a workbench, the Worx can easily transform from a plain table into a full-fledge and functional saw table in seconds.
Constructed from what appears to be high caliber hard shaped plastic, Worx is a lightweight unit (30 pounds) and suitable for users looking for a lightweight model for occasional use.
However, you mustn't think any less for this welding table because of its lightness or plastic construction. In reality, it packs genuine punches, and if the reviews are anything to go by, it's quite a functional unit.
In spite of tipping the scales at only 35 pounds, the Worx table can hold as much as 300 pounds in weight, which is roughly ten time its weight.
The table weight is, however, not even near what the Worx sawhorse can hold; an incredible 1,000 pounds in sawhorse configuration.
When selecting a welding table, I usually pay attention to the working surface, and thankfully, Worx didn't disappoint either, thanks to a surface of 30 by 25 inches.
I have to admit, though, that this isn't the biggest surface we've come across, but we were really impressed by how well it holds load and weight.
Moreover, we were fascinated by the ingenious design that allowed us to double the working surface by attaching another Worx table to the existing one.
For tall guys like me, comfort, especially height, is always a concern for us when selecting the best welding table.
Fortunately, Worx has a working surface perched at 32 inches from the ground, which we found neither too short to necessitate hunching or too tall to struggle to reach.
Alongside the height, we also loved how the entire unit was supported by 4 legs that not only did a brilliant job of evenly distributing the weight across the working surface but also add to the overall stability of the unit. While the 4 legs mean that you can use the table virtually anywhere, we found it only functional for the even surfaces.
In our opinion, Worx is quite the dream welding table that you've always been looking for.
It comes with 2 bar clamps that open 8 ½ inches, and this will hold your workpiece firmly and free your hands for other tasks.
Apart from the lamps, this unit also includes a built-in bottom shelf where we could store our essentials, such as power tools.
Finally, it's worth mentioning that the Worx olds down for easy transport and storage, and we had no issues moving it from one place to the other.
2. Miller ArcStation 30FX
In 2011, Miller Electric introduced the F-Series, the first-ever portable workbench for welding and metalworking.
One of the popular models on the F-Series is the Miller ArchStation 30FX.
I have to admit, though, that it's a pricey option on our list, but we think that its worth, thanks to sturdy build as it's bound to last for long, so you get what you paid for.
Ideally, we found this table suited for the professionals who are looking to invest in a model that is going to last them for a lifetime.
One of the characteristics that probably elbows this unit from the competition is the durable construction.
Unit a majority of the welding table, this unit will hold up well against years of abuse and heavy usage.
From the word go, it's evident that this unit is properly engineered and customized for heavy duty usage.
The top part, for instance, is molded from real plate steel, and this lets the table to stand up against the high levels of heat effectively.
This is probably one of the welding tables that are built with the mind of a welder in mind.
For starters, we were impressed with the versatile height of 35" which many users considered comfortable and safe.
Additionally, we loved that we could easily customize the workbench with an extensive range of handy accessories and organize everything we needed in a single, convenient workspace.
What really captured our attention was the clamping slots that are designed in X shape rather than parallel lines and we found this layout quite useful in working in a range of clamping positions.
Miller ArchStation 30FX comes with a working surface of 29" by 29", which was honestly a disappointment, especially considering what we paid for. Nonetheless, despite the relatively smaller working surface, this model has a generous load capacity of 500 pounds, 200 more than what we had previously seen on the Worx.
Another major highlight on this welding table is the X-pattern legs that evenly distribute the weight of the workpiece and ensure that the tabletop remains sturdy regardless of the items you place on top.
The patterned legs also made it easier to clamp the metal on its surface, and this, alongside the 1 ½ inch frame diameter, will provide better support compared to other welding tables in the market.
Typical of an F-Series model, this table features a foldable design alongside a handle for portability and easy handling.
We also loved the discreet wheels that made it easier for us to move the job site around our garage.
3. Eastwood Adjustable Steel Welding Table
Eastwood Steel Welding Table is yet another functional and sturdy unit.
One of the major highlights of this table probably lies in its name; a steel-constructed unit, you should never have to question the structural integrity of this welding table.
Like a majority of the welding tables on our list, Eastwood is solid, easy to assemble, and it has just what you need to start welding on.
Moreover, we just love that it's decently priced, and many users did not complain about the pricing.
Eastwood is solidly constructed using one of the premium materials in the industry-steel.
Unlike the flimsily constructed plastic unit, the steel on this table is reliable and will stand up to the extreme welding temperatures.
Be as it may, some of the users were really concerned about the zinc galvanization, and we were worried about the formation of toxic fumes.
Fortunately, the manufacturer has come out strongly to address this issue, and they've assured the users that the metal is overall construction is heavily tested, and users should not be worried about compromising their safety. However, it's always we recommend our readers to be in the safest attire when welding.
At the core of this welding table, we have a generous 14" gauge working surface of 30" x 19.88". Sure, it's not the highest we've come across, but still, it's a decent dimension.
Alongside the generous working surface, we were impressed by a top height of 33", which again offers a perfect balance of functionality and comfort.
However, we were no so impressed by the load capacity of 350 pounds. Sure, it's higher than some of the units on our list, but we expected something a bit higher, especially considering that there're budget options with higher load capacity.
A highly adjustable table, Eastwood has everything you need for a comfortable and efficient welding experience.
For starters, this table comes with three 1.1" wide slots that allow for easy clamping and configuring. These clamps make the welding process safe, efficient, and will free your hands for other essential tasks.
We also liked the fact that the table can be fixed in 3 angled positions, with an angle range from level position 86° (172° total range) for the ultimate flexibility and convenience.
4. Champ Welding Table
Versatility is one of the reasons we've included this welding table on our list of the best welding tables. Champ Welding can be utilized for a variety of welding applications, and not to mention that it easily adjusts according to space, meaning you can use it to weld even in awkward locations.
Moreover, versatility is further underlined by the ability of the table to rotate to 360 degrees, allowing you to handle your duties conveniently and without moving a lot.
One of the details that really stood out on this table was its toughness. Sporting a steel design, Champ Table is durable and strong and will let you perform all types of welding, including the professional welding.
We were also fascinated by the aesthetics, particularly the black color that gives a nice touch, and we found it appealing, especially to users who love minimalism.
However, despite the aggressiveness, we found the Champ Table quite comfortable to use. The design of this table is made for efficient and precise working.
The 20" by 20" base sits on smooth-rolling wheels, meaning users have an easy time of moving the table according to the working position.
Alongside the portability, we were impressed by the 360-degree rotation system that allowed us to move our workpiece without changing our standing point. What this means is that we could handle our tasks precisely and conveniently.
What's more, this welding table comes with a 24-inch diameter top surface, which in our opinion, is only suitable for small welding applications. In truth, this table has quite a limited space for the larger projects, and though we found it quite ideal for bringing work up to you, there were no adjustments to work lower down.
Again, we were disappointed by the lack of fixture points on the table, which made it challenging to fix and hold our workpiece. Nonetheless, the manufacturer has included a torch loop, which we found quite handy for resting the torch in.
Gladly, not all was gloom with the performance of this unit; for instance, we found the 20 ½ "base wide enough to provide the much-needed stability. Also, the overall height was a tad higher than most of the welding tables, and this has us an up-close view of our welding while at the same time protecting our backs.
Regarding load capacity, Champ Table ties with Miller ArcStation 30FX at 500 pounds, which was quite surprising as it's among the highest on our list.
Overall, this is the least of our favorite table welders we've reviewed. Though it's worth the price, and quite an affordable option, we found it quite limiting in various fronts, especially the lack of clamps.
5. Strong Hand Tools TS3020
Regardless of whether you're a seasoned welder or hobbyist, TS3020 will almost fit any of your welding projects.
Like a majority of the premium models on our list, TS3020 offers great flexibility, adjustability, and portability.
We love that it comes with two wheels that promote portability, making it a cinch to move your workshop form one location to another.
What's more? It's completely foldable, giving users improved maneuverability and storage even in narrow spaces.
Nomad TS3020 is among the heavy duty models we've in the industry. The frame that holds this table, for instance, is constructed from rugged yet lightweight stainless steel.
Despite the ruggedness and all-metal construction, TS3020 is lightweight, and we find the 41 pounds quite easy to move around.
Moreover, the design of the table folds to fit in the narrow spaces, and we found this quite handy in reducing clutters as well as improving usability.
Another design highlight that caught our attention was the tall frame that made it easy for us to work and see our weld up close, without the need for bending over.
The working surface has a modest dimension of 30 inches by 30 inches, which is quite the standard dimension of a majority of welding tables on our list and in the market in general.
The departure point of the TS3020 welding surface is the 14-gauged stainless steel tabletop that can support up to 350-pounds of load, meaning its suitable for the challenging welding tasks.
Additionally, the table features a tilt-adjust mechanism that allows for vertical and horizontal adjustments up to 30 degrees, which users found quite impressive as they could easily reach the tighter spaces with ease.
Regarding performance, this welding table comes with three horizontal slots that allow you to easily and securely clamp your workpiece and will let you place the clamps at any location without hassles.
In addition, this welding table comes with a retractable guide rail that provides users with additional support for securing their workpiece.
This is not to mention that Nomad TS3020 has extendable legs that make it possible for users to extend the height of the table to the height of their liking.
One major gripe that we had with this folding welding table is the fact that it's relatively smaller compared to competitors. However, that was not quite a deal-breaker since we had the option of using a unique extender that allowed us to connect multiple Nomad TS3020 tables up to a working surface of 12.5 square feet.
6. Chicago Electric Welding Adjustable Steel Welding Table
Chicago Electric Table is yet another budget that delivers on what it promises. We found it an ideal choice for beginners who are just starting or any welder that wants a table that will cater to their needs without having to spend an arm and a leg.
However, despite the price, this model is quite functional and a performer as well.
For starters, it's surprisingly solid and can stand up well against a good amount of abuse. Additionally, it comes with a host of features that make it quite a useful model for the day to day welding practices.
As we had hinted earlier, this table is quite solid, and this is largely because of the steel construction.
If the reviews are anything to go by, this table will hold up well, and users should have no concern about its integrity even when used daily.
Generally speaking, this model does not feel flimsy, and is quite stable, ensuring that no accidents are bound to happen when using it.
We also found the weight quite ideal, and at a weight of 36 pounds, it's among the lightest models on our list. However, we would have loved to see the inclusion of caster wheels, as this would have promoted the portability even further.
Despite the lightweight nature, this table comes with a generous working surface of 30 by 19-7/8 inches and is capable of holding loads of up to 350 pounds.
Alongside the load capacity, this unit is highly versatile as it can be adjusted in different angles, accommodating up to 5 different angles to cater to your welding needs.
What we liked most about this table is that we didn't have to worry about our safety because the legs on this model feature a trestle style and reinforced, meaning they're quite sturdy and we had no issues with the stability of this model.
In truth, the size of this welding table is just right for a variety of uses, and it offers just enough space for both large and small projects.
And when not in use, you simply need to fold it down without a hitch and then store it. And contrary to other models, there're no complicated parts than need installation or assembly.
7. Rhino Cart
Seventh on our list is yet another product from Strong Hands Tools. It's an impressive working table that included everything a clamping table needs.
The most heavy-duty option on our list, Rhino Cart is an industrial-grade table that is designed to secure workpieces with incredible precision that will deliver consistency among multiple projects.
However, the reason we've featured it as the last option and not higher is because it's a more expensive option, heavy and ideal for specialized projects that require clamping and detailed set-ups.
Rhino Cart is not your typical welding table, but it's a unit that is designed for heavy duty and industrial tasks.
It's the most heavy duty unit on our list, and quantity-wise, it offers than what 99% of other tables in the market do.
One of the major highlights that underline this unit as an ideal industrial-grade table is the massive load capacity of 1,500 pounds, the highest we've come across in the market.
We've to admit that Rhino Cart, weighing at 515 pounds, is a heavy table. Surprisingly, the weight of this table does not limit its portability because it comes with heavy-duty caster wheels that make it easier to roll the table from one location to the other.
The casters are further bolstered by a locking mechanism that will promote your safety, even when using the table in a stationary position.
One of the best aspects of this welding table is the reversible tabletop that features a black oxide protective finish. This table will stand up to rust, ear, and even weld splatter.
We also love that the 5/8-inch steel plate is reliably solid and makes an incredible option when you're in search of a durable welding table.
2" by 2" Spacing Patterns
Another key feature is the CNC holes that allowed us to position the workpiece parts and components accurately.
Besides the CNC holes, this welding table also includes pegboard panels; shelves are racks that will allow for easy storage, organization, and easy access to the welding accessories.
To reiterate what we had mentioned above, this table comes at a cost that you might not be comfortable with, especially if you're the budget-conscious type. However, you may find it worth every penny because of its qualities and capabilities.
Best Welding Table Buying Guide
In the section below, we shall be looking at some of the critical factors that you need to consider when selecting your welding table.
Ideally, this section should guide on how to make your next purchase and offer some of the pointers to look out for to ensure that you get a welding table that suits your welding needs.
Key Factors to Consider when Purchasing a Welding Table
Welding Table Size
Generally, a larger tabletop is better, because it translates to a larger working surface. However, your choice of size should also depend on the available space in your garage.
If you often handle small and lightweight projects, you would be better suited to having a small to medium welding table, and the inverse is true.
Welding Height
Welding height is a crucial factor to consider as it determines the overall comfort.
Ideally, you should choose a table with a height that you feel is comfortable working on; it should neither be too tall nor too short and should allow you to work comfortably without needing to bend or strain to reach your welding area.
Also, it should be close enough to provide you with a good view of your welding task.
We would recommend that you choose a welder with adjustable height, and this should allow you to customize your welding needs.
The perfect welding height should protect your back from constant arching and should ensure that your arms are properly stabilized for precise and efficient welding.
Load Capacity
The load capacity refers to the weight that the worktable can effectively handle without compromising its integrity.
The choice of load capacity should depend on your welding needs.
However, if you often handle lightweight to medium welding tasks, a welding table with a load capacity of anywhere from 300 to 500 pounds should be sufficient.
However, if you need a welding table for heavy duty industrial welding, go for a welding table with a load capacity of 1000+.
Portability
A welding table should be portable, and this is true if your projects demand frequent movement around the workshop.
Ideally, you should choose a model that is both lightweight and one with a compact size. Additionally, it should be foldable, allowing for easy movement and storage, too.
More importantly, you also need to invest in a welding table with wheels that will bolster the portability and let you push the welding table with ease.
Accessories
It's always nice to have a convenience feature son your welding table.
One of the accessories that we usually consider when purchasing a welding table is the storage shelves.
Having storage shelves on your welding table will allow you to keep all your welding tools organized and at the same time, within the ease of reach while welding.
Price
Finally, you need to consider the price of your table welder.
As you've seen, the prices on these models range from a couple of dollars to hundreds of dollars, and so, you should be quite selective in your next purchase.
In most cases, the pricing is based on quality and brand. In fact, quality and features usually distinguish the welding tables in price.
For instance, the less expensive welding tables are an ideal option for the beginners and budget-conscious welder, while the more expensive welder is suitable for the professionals who are looking for more than basic equipment.
Conclusion
Now you've it; we've already listed the best welding tables in the market.
What you need to do is simply go over the list again, and identify a table that you think will fit your welding needs.