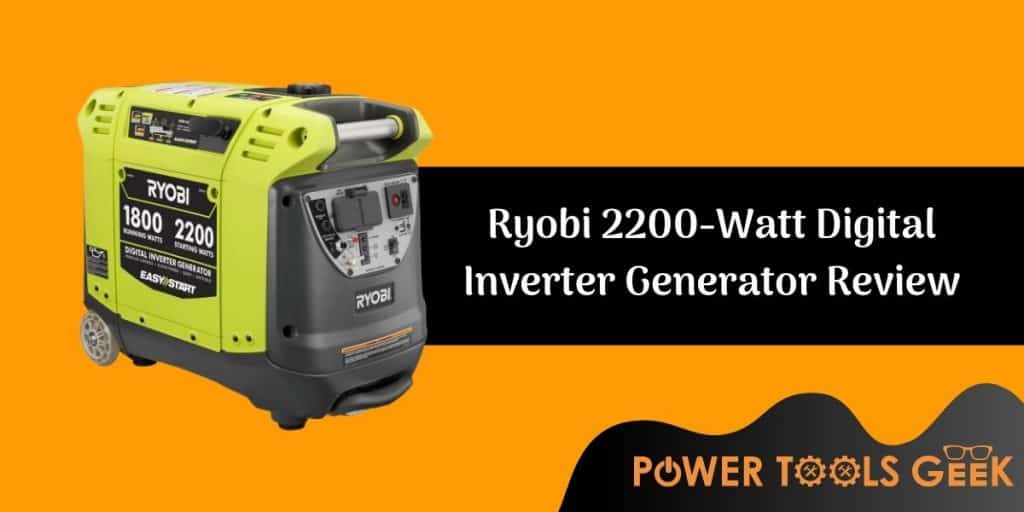 Ryobi 2200 Digital Inverter Generator Review
Coming from a world-class manufacturer of affordable power tools, the Ryobi 2200 is a generator worth considering.
This unit is designed to be more than an ideal choice for power outages, but it will also double up as a perfect unit on jobs sites, and for emergency purposes.
What we like about this unit is that it's affordably priced, well-made and will serve to your needs when you need portable electric power.
Features and Benefits of Ryobi RYi2200
The Ryobi was engineered with great attention to detail and with a modest dimension of 18 x 18 x 24 in; this unit is ultra-compact, making it portable and easy to carry.
Further underlining the portability is its lightweight nature. Weighing at only 51 pounds, the Ryobi will allow you to carry it wherever you go.
Collectively, both the weight as well as the dimension of the Ryobi makes this unit an inspired choice for the outdoor enthusiasts or rather those who are always on the move.
And in addition the above features, this unit comes with a portable design feature that you don't see every day with portable generators. An extendable portable arm and roller wheels make this generator look more like a briefcase than a generator while on the move. The easy rolling design of the Ryobi makes it an inspired choice for those with back pain or lifting restrictions.
The Ryobi is powered by a 106cc OHC, 4 cycle engine. True to its definition, this engine is not a powerhouse for the heavy duty commercial tasks but rather a moderate drivetrain, ideal for lightweight to moderate tasks.
The engine will allow the Ryobi to generate a surge output of 2200 watts and a running output of 1800 watts.
Though classified as a lightweight model, you can see the power output is decent. And with this output, the Ryobi can handle a variety of your household appliances as well as job site appliances.
So, whether you're looking to light up your household, power up your RV or even run some of your job site tools, the Ryobi is perfectly up to the task.
The Ryobi is an inverter generator, and this will provide the users with some additional benefits over the use of a regular generator.
For starters, inverter generators are generally quiet so that you can expect a quiet operation with the Ryobi.
Secondly, inverter generators are fuel efficient, and will thus conserve your fuel, while optimizing on performance.
Most importantly, inverter generators will produce a clean output, or rather an output free from voltage spikes. The output generated by the Ryobi is comparable to what you get from your wall output, and this is to mean you'll no longer have to worry about damaging your sensitive appliances.
If you feel the 2200 watts generated by the Ryobi are not sufficient for your needs, you'll be glad to know that the Ryobi supports parallel connectivity.
This is a feature that will allow you to hook a second Ryobi generator to the first one for a boosted output.
For instance, if you connect a second unit, you'll have a collective output of 4400 watts.
However, understand that the parallel hook is sold separately from the generator.
Like all the inverter generators, the Ryobi features an automatic idle technology or rather an econ switch, which will idle down the unit when the power demand is low.
Activating the Econ switch will allow your generator to optimize the fuel consumption, by allowing the motor to run based on the load.
With modest fuel tank of 1 gallon, this unit will provide you with a runtime of 5 hours at 50% load and half the runtime when running on full load.
Now, while the fuel efficiency is certainly not the best we've seen in some expensive models, it's a reasonable runtime for most of the tailgating parties.
On the downside, however, this unit does not feature a fuel gauge, and this is to mean you have to monitor its usage manually.
Again, like all the inverter generators, the Ryobi is a relatively quiet generator.
It's so quiet that it will allow you to hold a conversation while it's still running.
According to the manufacturer, this unit has a decent noise rating of 60 decibels, and this makes it among the quietest generators.
Remember we had earlier mentioned that the Ryobi does not feature a fuel gauge.
In place of the fuel gauge, the manufacturer has included an on-board monitoring system. This is a technological feature that will automatically send you the performance metrics of the generator, such as low oil alerts, as well as power load signals.
In a nutshell, you don't necessarily need to be a generator geek to operate the Ryobi as this manufacturer has simplified the operation of the unit.
Highly multi-purpose, Ryobi comes with several receptacles, and this allows it for use to power multiple appliances simultaneously.
For instance, this unit comes with one duplex receptacle offering two 3-prong 120v outlets. Additionally, the unit comes with 12V DC circuits, which will provide 7.5 amps of power.
The control function on the Ryobi is simple and intuitive. If reviews are anything to go by, many of the users had an easy time controlling the unit.
When it comes to starting up of the unit, the unit uses a simple recoil pull rope system.
Our biggest concern with Ryobi 2200 is probably its runtime; the 4.5 hours are quite restrictive in what you can do.
Otherwise, the generator is a wonderful creation and a masterpiece that will guarantee remarkable performance.
We particularly like its intuitiveness, lightness and most importantly, lightness.