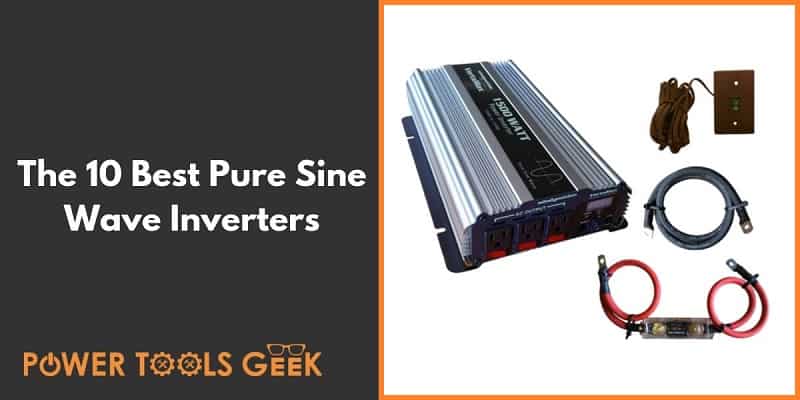 10 Best Pure Sine Wave Inverter Reviews 2021 – Perfect Power Inverters
Are you planning to purchase a good power inverter but do not know which one is best for your needs?
You have probably heard people say that the only kind of inverter you should buy is the pure sine inverter. But unfortunately, you know nothing about a pure sine inverter, and whether it's good for your appliances.
After spending more than 60 hours doing thorough research on these inverters, we concluded that the AIMS Power 3000 is the best pure sine wave inverter available in the market.
It's an ideal choice, especially during power outages, and can work with a variety of appliances such as cars, home appliances, and RVs.
Comparison Table & Runner Ups
Finding the best pure sine wave inverter is challenging at the very least.
Given there are numerous brands in the market, with each brand having specific features, purchasing an inverter generator is a daunting task.
Gladly, we have compiled this awesome comparison table that will allow you to make a purchase decision fast.
Our table highlights all the major features plus the price of each product, and you can skim through to see which product fits your needs.
Continuous Power: 3000W

Surge Power: 9000W

Output Voltage:

Frequency:

Continuous Power: 3000W

Surge Power: 6000W

Output Voltage: 12V DC to 120V AC

Frequency:

60 HZ

Continuous Power: 300W

Surge Power: 600W

Output Voltage: 12V DC/ AC 110V

Frequency:

50HZ/60HZ

Continuous Power: 1000W

Surge Power: 2000W

Output Voltage:

12V DC to AC 110V

Frequency:

50HZ/60HZ

Continuous Power: 2000W

Surge Power: 4000W

Output Voltage:

Frequency:

Continuous Power: 2000W

Surge Power: 4000W

Output Voltage: 12V DC to 120V AC

Frequency:

50HZ

Continuous Power: 2000W

Surge Power: 4000W

Output Voltage: 12V DC to 120V AC

Frequency:

50Hz

Continuous Power: 600W

Surge Power: 1200W

Output Voltage: 12V DC to AC 120V

Frequency:

50HZ/60HZ

VertaMax Pure SINE Wave 1500 Watt

Continuous Power: 1500W

Surge Power: 3000W

Output Voltage: 12V DC to 120V AC

Frequency:

60Hz

Continuous Power: 1500W

Surge Power: 3000W

Output Voltage: 10.7 - 16.5 VDC / 21.4 - 33.0 VDC

Frequency:

60Hz
Top 10: Best Pure Sine Wave Inverter Reviews
Are you working on a construction site with no generator? Or planning to go for a long camping trip in the middle of nowhere? Many at times, we often find ourselves away from the comfort of the power grid, but this does not mean that we cannot power our appliances.
Batteries can provide the much-needed energy to keep your devices running.
But there's a catch.
Batteries usually generate DC power, but it's unfortunate that a majority of the electrical appliance needs to convert this energy to AC power. Therefore, to use a portable battery, you will need to get one of the best pure sine wave inverters.
Inverters will convert DC energy to AC power, and the benefit of this conversion is that it ensures that the energy delivered is smooth, free from voltage spikes and surges that can damage the internal circuitry.
However, before purchasing one of these gadgets, there are plenty of considerations to make like the number of devices you have, the amount of power you need, and when you need it.
To help you navigate through the murky waters of pure sine wave inverters, we have put in place this comprehensive pure sine wave inverter review guide that will explain the ins and outs of power inverters, pick the top performers, and find one that fits your power needs.
1. AIMS Power 3000
The AIMS 3000 can be classified as a modified sine inverter type, thanks to the presence of distinguishable features that make it fully functional.
Conforming to the standards set in the proper functioning of power inverters, this gadget boasts of a dual GFCI outlet and reliable power.
With a peak watt of 9000W, the Aims 3000W is one of the robust gadgets you will find on the market.
Ideal for industrial use, this high surge inverter is a perfect choice for powering appliances which require a high starter like motors, compressors, and pumps.
Direct Connect Terminal Block
A major highlight on this device is the direct terminal block, which allows up to 300% surge capacity for up to 20 seconds.
When the terminal block is triggered, the Aims 3000 can peak at 9000W, and this power is sufficient to run all tools with high startup surges.
The Aims is a reliable inverter and comes flush with safety features.
The thermal fuses alongside a cooling fan, for instance, will prevent overheating damage, while the durable aluminum construction makes this inverter sturdy to stand up against the harsh conditions.
Safety on this inverter is further bolstered by the presence of overload and overheating protection.
Finally, the Aims 3000 is marine-coated or rather the conformal-coated boards on this gadget makes it ideal for mobile applications as it will protect the product from dust and water vapor that may be present in the air.
The Aim 3000 features a built-in 65amp multistage battery charger that can be used for recharging battery banks as well.
Finally, the aim generates a pure sine wave, which allows it ideal for powering your sensitive electronics such as laser jet printers, CPAP machines, computers, smartphones, and other sensitive equipment.
2. Power TechON 3000W Pure Sine Wave Inverter
A product of GoWise, this pure sine wave inverter will provide you with a continuous wattage of 3000W and a peak surge of 6000W.
A versatile choice, it comes with 3 AC sockets plus a single USB port of 5V and is ideal for use for cars, RVs, boat, computers and for all other sensitive appliances.
As we had mentioned earlier, this pure sine wave inverter comes with a Total Harmonic Distortion (THD) of less than 3%.
The benefit of such a low THD is that it will ensure that power from your generator will always stay stable, and it will dampen the voltage spikes to a bare minimum thus preventing any blow-up or frying of your sensitive appliances.
When it comes to the safety of your appliances as well that of your inverter, the TechON does not skimp.
It features five safety features that will prevent it from blowing up.
These features include:
Thermal protection
Over-voltage protection
Under-voltage protection
Overload protection
Low voltage protection alarm
Alongside the safety feature is a LED protection indicator, that will blink in case of any problem.
A common issue we see with many inverters is the potential risk of overworking themselves. To avoid this, the TechON features an efficient cooling system, comprising of fans that will ensure the inverter does not overheat.
Sporting a 15 ft., wired remote red starter cable and four output sockets, the TechON, is a versatile gadget that can be used at home permanently, at job sites or even on the road during RVing.
Besides, it can accommodate a majority of modern appliances from cars, computers to other sensitive electronics.
3. EasyFocus 300
If you are in search of a gadget that will double up like a battery and a power inverter, it can never get better than this inverter from EasyFocus.
High frequency, high efficiency, and stable technology on the Easy Focus makes it suitable for a variety of loads and can be used for powering many of the household appliances without interference.
At only 500W of continuous power and 1000W of surge watts, the EasyFocus is not exactly the gadget you need for powering your power-hungry appliances but will provide power to tons of small electronics such as laptops, and TVs without needing to hook an external battery.
With this battery, it means you can power a 60-watt device for roughly 4.5 hours.
To promote convenience while using this gadget, the manufacturer has fitted EasyFocus with an LCD screen that makes it easy to tell how much battery is left and so you'll never run out by surprise.
Weighing at less than 7 pounds, plus the presence of an integrated handle makes the gadget easy to move around.
Finally, you will have a hard time finding enough devices to plug in to fill the 4 DC outlets, 4 USB outlets, and 3 AC outlets
This is not to mention the device features 3 Ways charging ports.
4. Sunforce 11240
The Sunforce 11240 is an ideal option for those looking to power their appliances without having to spend a fortune. The Sunforce 11240 will get your job done at a moderate price.
With an added advantage of optimal compatibility, the Sunforce 11240 will power all your sensitive appliances with ease. And given that it comes with enough safety features, it will guarantee the protection of your appliances as well as the inverter.
Though a budget option, it has an amazing power output of 2000/1000 peak and continuous wattage respectively.
The generous output on the Sunforce not only makes this inverter an awesome option in the event of a power outage, but it goes ahead to deliver compatible power with your sensitive appliances.
Like the best pure sine wave inverters on our list, the Sunforce will deliver a continuous stream of clean, and stable AC power, which is ideal for powering your sensitive equipment.
Sporting a modest weight and dimension, the Sunforce 11240 is portable, and this adds to its versatility and convenience of use, allowing you to take with it anywhere.
Finally, like the best pure sine inverters on our list, the Sunforce 11240 will not compromise on the safety of your appliances as it features a gamut of safety features, which include;
5. Giandel 2000W
Adding an inverter to a travel trailer has never been so easy when you choose the Giandel 2000 Power Inverter.
Ideal for outdoors as well as indoor use, you can rely on the Giandel to provide you with reliable and continuous power.
The Giandel 2000 is versatile, thank the presence of a USB port alongside dual AC outlets that will allow you to plug up to three devices at once.
This inverter has a standard capacity of 200W and 4000W of peak power. With such a capacity, the Giandel will effectively supply power to your recreational van, your car, yacht, CPAP, AC, and many more appliances.
Unlike the Power TechON 3000, we had reviewed earlier; the Giandel comes with a remote control that will allow you to operate the gadget wirelessly and avoid the inconvenience of running wires.
Besides the soft start technology, the Giandel comes with an intuitive and isolated output and input design, which helps in an easy operation.
Safety is paramount when dealing with electricity. Giandel has ensured that your appliances will remain safe by incorporating a built-in cooling fan, which will prevent overheating as well as shortages too.
Regarding durability, you can count on the aluminum alloy shell, which will provide the much-needed protection against bumps and drops.
6. AIMS Power 2000
Though the AIMS Power 2000 is a step down to the Aims 3000 we had reviewed earlier; this inverter is an ideal option for most of the off-grid tasks.
Running on a pure sine wave, the Aims 2000 is an ideal option for running sensitive electronics. You can also use this gadget in vehicles, for camping, in boats and as power backup in case of an emergency.
This sine-wave inverter generator is capable of producing 2000 watts of continuous, clean and reliable energy, similar to the one supplied by the local grid.
Multiple Protection Systems
The Aims 2000 provides multiple protection systems that include overload protection, over temperature indicator, low battery voltage shutdown, and warning and high input voltage protection for its automatic shutdown.
Now, remember that having a safety protection feature is essential as it will preserve the integrity of both your appliances as well as that one of your inverter.
This inverter generator features a USB that will let you charge your electronics with n hassle. The dual AC receptacles, on the other hand, will let you plug two appliances at a go.
The Aims 2000 is tested and certified to meet stringent UL458 standards and is ETL listed, meaning that it meets the high-quality standards or a reliable and trusted product.
7. Samlex America PST-2000
With a continuous wattage rating of 4000W, this industrial grade is ideal for powering household sensitive electronics such as TVs, home office equipment and stereos.
Featuring a temperature controlled cooling fan alongside a low noise level design, the Samlex will not affect your work progress or drown the television volume.
The presence of a powerful microprocessor alongside a built-in transfer switch will allow you to powerthe highly reactive and capacitive loads.
This is not to mention this inverter comes with a slightly wider operating range with an overload capacity of 16.5 volts.
Samlex 2000 is designed for high drain operation over a long period. And because it allows hard-wiring into the RV's power system, you'll have a gadget perfectly designed for the long term, everyday use.
The built-in GFCI AC plugs on the front alongside a specially designed pin connector battery connector on the rear render the Samlex 2000 a safe gadget.
Universal Protection Circuit
Safety on this gadget is further bolstered by the presence of a UPC that protects the system against all manner of safety threats such as low voltage, overload, and short circuit.
Add to the fact that the gadget is designed for extreme efficiency, and you have a premium inverter.
8. AIMS Power 600
The Aims 600 is yet another awesome option from Aims. Unlike the Aims 2000 we had reviewed earlier, the Aims 600 is a mid-size inverter that is ideal for use whenever there is a power failure.
The Aims is not exactly a high-grade gadget for powering the power-hungry appliances but rather ideal for running mid-sized power appliances such as TV set, DVD player, satellite box as well as CPAP.
The Aims 600, like the best sine wave inverters on our list, takes DC power from your portable generator and later converts it into AC power.
More importantly, this device will automatically charge your battery banks as well as automatically switch when connected to AC power.
Though it has a modest wattage, the Aim 600 is a versatile choice for powering several appliances and is a great choice for meeting your electrical demands, i.e., powering your RV, home appliances as well as the outdoor appliances.
Versatility is further manifested through the presence of dual receptacles with additional USB ports for convenient charging.
Safety is standard with Aims, and like all the high-end model, the Aims 600 features a plethora of safety features such as High input voltage protection with automatic shutdown and Low battery voltage warning/shutdown.
All this will go to protect your appliances from the risk of short-circuiting or overheating, as well as protect the gadget.
9. VertaMax Pure SINE Wave 1500 Watt
If you are looking for a medium frequency inverter that will provide you with value for your money, while still powering you, the VertaMax is a great choice.
The VertaMax is a premium model that comes with everything you need for a proper set-up including a remote ON/OFF switch with a 15 cord, 150amp ANL fuse as well as an ANL fuse holder.
Whatever you plan to do with this inverter, it will supply you with a continuous stream of reliable sine wave outputs.
With a generous power rating of 1500/3000W, VertaMax can work well with a variety of appliances such as a vehicle, and most of the household appliances such as microwave ovens, TVs, computers, CD, coffee makers, laptops and cellular phones.
VertaMax features a reliable thermal shutdown for safety purposes.
Likewise, this gadget comes with reverse polarity protection through internal fuses, over-voltage protection, short-circuit protection as well as a low voltage shutdown.
Among the things we like on the VertaMax is the ease of use.
For starters, this inverter comes with a soft start technology, a feature that makes starting the inverter more hassle-free, and more importantly, extending the life of the unit.
Secondly, this inverter features a LED display for showing DC battery voltage and wats, AC power consumption. The display also allows for monitoring of power usage.
The surge protection alongside excellent wave output on the VertaMax makes it safe for use with your appliances.
10. Samlex Solar PST-1500
You can never go wrong with Samlex, which happens to be one of the best brands in the market.
PST-1500 generates clean and reliable AC Power, identical to household electricity, and this makes the gadget ideal for powering sensitive electronics like TVs, stereos and home office equipment.
The commercial grade design on the PST-1500 makes it suitable for heavy-duty loads and will guarantee long periods of continuous operation.
The Samlex 1500 is a high-efficiency DC-AC inverter. It works by converting 12 V DC to 1500 watts of clean and reliable AC energy at 120 V, 60Hz.
PST-1500 provide clean, stable power that will power your computer, radio equipment, kitchen appliances and much more.
Samlex PST-15000 is a commercial grade inverter that is ideal for use for the power-hungry appliances. And given that it can be hard-wired and has several safety features including low battery alarm, overload protection, low idle power and more, you can always rely on this gadget to supply you with a continuous stream of power.
Best Pure Sine Wave Inverter Buying Guide-Things to Consider
If you are planning to purchase an inverter, there are some necessities for a quality one. Otherwise, you might end up with a flimsy type that will not meet your energy needs.
Here are some considerations that you need to make for a quality pure sine wave inverter.
Wattage
Wattage will depend on what you are buying for. This is because different appliances have different wattage requirements.
To find an ideal inverter, we always recommend that you choose one with a slightly higher wattage power than you need, and this will save you from the hassle of under-wattage.
Continuous load and Peak Load
Continuous wattage is the power an appliance needs to run, while the peak wattage is the energy an appliance needs to start. Peak or surge wattage is generally higher than the continuous load.
Therefore, before making a purchase, check on the specifications of your gadgets and see what energy they need to start and run.
Current waveform
An ideal pure sine wave inverter should generate a current waveform, or rather a sinusoidal current similar to what a utility line delivers.
A current waveform is smooth, pure and peaks gradually, and it's the best for all the AC appliances, especially the modern ones.
Maintenance Options
It's recommended that a pure sine wave inverter receives regular maintenance.
You can use the Original Equipment Manufacturers, OEMs, plan, but it's rather expensive when compared to hiring a third-party professional.
Cost
Cost also plays a critical factor when choosing a sine inverter.
Generally, the higher the cost, the more features you will get.
Nevertheless, it essential that you purchase a quality product that is not only within your budget but will satiate all your power needs.
Features to Consider
What are some of the essential features to consider when purchasing a pure sine wave inverter?
USB port- A majority of the quality inverters usually come with several USB ports that will allow for the power inverter to charge through it
Air compressor- Air compressors usually feature in high-end models and are essential in pumping stuff like tires.
Display- Display is a convenience feature, which allows you to monitor the state of your inverter
Power jump starter- A power jump starter is a handy feature for those looking to use the inverter to power up a car or battery
Overload Protection-This is a safety feature that improves on the adaptability of your inverter and is handy especially when you plug a high powered device on your inverter.
Solar charging feature- Ideal for those with a green thumb, the solar charging feature is a convenient and useful feature as it uses the solar energy to power its operation.
Defining Pure Sine Wave Inverters
An inverter transforms DC to AC. DC power is that energy, which is stored in batteries like those in cars or boats, while AC, on the other hand, the type of power used to run appliances.
Given it can transform DC to AC, it means that your power options are now expanded and you can now power your appliances using a generator, rather than having to rely on the electrical outlets from the grid.
Additionally, inverters are an essential part of a home solar power system as they are used to convert power stored by solar panels for you to use that power.
Instances When You Need a Pure Sine Wave Inverter
Pure sine wave inverters generate a smooth, and reliable output, free from voltage surges and spikes and are therefore ideal on:
Unlike conventional inverters, pure sine inverters provide better efficiency and with a lesser interference.
How Pure Sine Wave Inverters Work
As we had mentioned earlier, the primary role of pure sine wave inverter is converting DC power to AC, and it is this process that we shall be looking.
It's a three-stage process of converting DC to Ac Power.
Oscillator stage
The first stage is the generation of oscillating pulses through a transistorized or an IC circuit.
The oscillation generated will then produce an alternate battery with both positive and negative peaks, accompanied by a specified frequency number.
At this stage, however, the pulses are weak and cannot be used for powering up any transformer.
Booster/ Amplifier Stage
It is at this stage that the oscillation pulses are boosted t a higher current level.
Although the energy at this stage is still in AC form, it still has a low voltage, and can therefore not be used for powering any appliance.
Output Transformer Stage
The last stage is where the AC power is applied to the secondary winding of the sine wave inverter's transformer.
The result is a stepped-up voltage which is sufficient for use for powering your electrical equipment.
Pure Sine Wave vs. Modified Sine Wave Inverters: Which One to Choose
If you are in search of a pure sine inverter, you have probably come across a modified sinewave inverter.
You are probably wondering which is a better option.
Read on.
Pure Sine Wave Inverter
Pure sine wave inverters are ideal for powering the extremely sensitive electronics. In most cases, you find that these electronics require high-quality waveforms with minimal harmonic distortion.
Besides quality and clean power, pure sine wave inverter has a higher surge power, and this is to mean they can easily exceed their watt rate for some time and allow motors to start easily.
Additionally, they are compatible with all devices.
Modified Pure Sine Wave Inverter
These gadgets are manufactured to satisfy the required efficiency of the photovoltaic system.
Leveraging on basic technology to generate power for running simple electronics, these gadgets can operate a variety of loads and is ideal for computers, TVs, microwave oven or even lighting systems.
However, the modified sine wave inverter is quite limiting as it does not operate with most of the modern appliances.
Pure Sine Wave Inverter Advantages
Conclusion
Whether you are looking to power up small or big electronics, while ensuring quality output, the best sine wave inverters will do the task.
Besides, these gadgets will guarantee a smooth sine wave current similar to what you would get when you plug your appliances into an electrical grid.
Plus, you get an extremely stable output, effective for any load.