1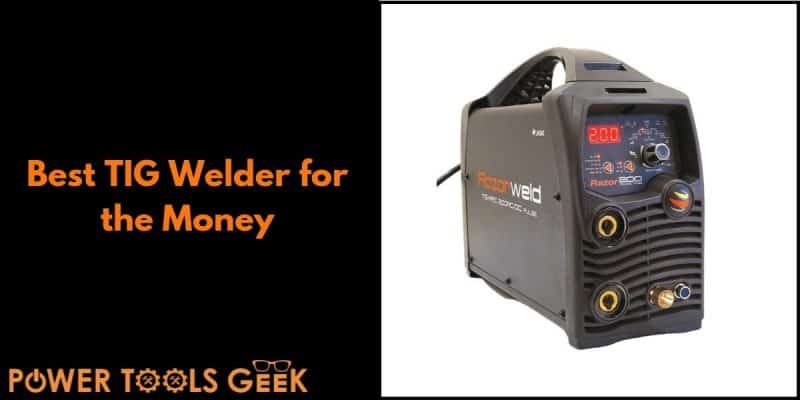 Best TIG Welder for the Money – Our Top Picks Under $1000, Under 2000 and Under $5000
If you're on a budget, you might think your TIG welder options are quite limited.
But are they?
Not at all.
Depending on your needs and budget, you can find some pretty exciting TIG welders for the money.
These welders are highly functional and come with rugged durability.
At this point, however, like many homeowners, you might be unsure of the perfect welder for your needs and budget.
And it's for this reason we've created this massive TIG welder review guide to help you choose the best TIG welder for the money.
The 2018 Everlast Power ITig 201 is a powerful and pragmatic welder that has too much to offer.
With an incredible output of 200A and a dual-voltage capacity, the Everlast has the highest duty cycle you'll come across on our list.
Comparison Table & Runners Up
There're a lot of factors to consider when choosing the best TIG welder for the money.
Whether you're looking for a TIG welder under $1000, under $2000, or $5000, we shall help you do that.
Again, whether you're looking for a welder with specific power requirements, duty cycle, or even amperage rating, we've compiled a table to compare the major products in the market.
Output: 200A
Input: 110v/220v
Process type: TIG/Stick
Duty cycle: 35% @200A
Weight: 40 pounds

Output: 200A
Input: 110v 220v
Process type: TIG, Stick
Duty cycle: 100% @ 155A
Weight: 69 pounds

Output: 200A
Input: 110/220v
Process type: TIG
Duty cycle: 35% @ 200A
Weight: 36 pounds

Miller Maxstar 150 TIG Welder

Output: 150A
Input: 115V/230V
Process type:
Duty cycle: 20-100A @ 35%
Weight: 13.7 pounds

Hobart EZ-TIG 165i TIG Welder

Output: 165A
Input: 230V
Process type: TIG
Duty cycle: 20%@ 165A
Weight: 50 pounds

Lincoln Square Wave TIG 200

Output: 200A
Input: 120/230V
Process type: TIG/ Stick
Duty cycle: 25%@200A
Weight:
Best TIG Welders for the Money: Under $1000, Under $2000, or Under $5000
TIG welding is among the most challenging welding processes to learn.
However, the fact that TIG welding can be used on a variety of metals, more than any other process makes TIG welder handy tools.
And if done right, TIG welding often results from cleaning and high-quality welds with no sparks, spatter, smoke or fumes.
Finally, TIG offers unmatched control and accuracy, making the entire welding process simple and convenient, even when welding out-of-position
In the review guide below, we shall review the top 5 TIG welders in the market, highlight their feature, and explore their performance.
We shall also have a buying guide at the end, and hopefully, by the end of this article, you'll be able to make a more informed decision on your next purchase.
1. Everlast Power ITig 201
The Everlast 201 is iteration to the previous Everlast 200. Though the new model has been upgraded to include advanced features such as the IGBT inverter alongside other sophisticated function, the performance function remains largely similar.
A heavy-duty welder, the Everlast Power 201 is highly functional and a perfect tool for those looking to set the parameters of the welder manually. Highly versatile, the 2018 Everlast 201 is suitable for both home and industrial use.
The Everlast 201 is suitable for professional use, especially when handling heavy0duty arc welding. This IGBT welder can stand up to the heat generated when working with metals and can as well handle the increase in heat, thanks to its low start function.
The Everlast steps thing up a notch, especially regarding quality welding.
For instance, you'll love the extensive amperage range that offers an incredible performance as 5A.
As such, it means that Everlast will deliver a smooth and stable arc, and while at the same time allowing for an effortless start and top-notch crate filling.
A highly versatile unit, the Everlast 201 is suitable for both homes and professional use.
Versatility is further underlined by the presence of both AC and DC output, meaning the Everlast is suitable for welding a variety of metals including aluminum, magnesium, as well as the thicker steel plates.
With a maximum delivery of 200A on its 220V motors, the Everlast will allow you to a plethora of welding tasks, including the lightweight industrial applications.
The Everlast 201 is one of the easy welders to use.
Though it has a similar concept to what we've seen in the original Everlast 200, the Everlast 201 comes with an integrated micro-controlled inverter, which makes the overall design much simpler and more reliable.
The digital controls on this unit are made with a beginner in mind, and they're easy to manipulate during welding.
IGBT is a vital function that improves the overall efficiency of the Everlast 201.
More importantly, it boosts the versatility of this unit, allowing its use on various complicated processes such as crafting firearms, fabricating vehicles as well as HVAC construction.
The Everlast 201 is a full-package welder that comes with all the standard accessories and connectors for welding.
Some of the accessories that this unit comes with include a 10ft cable, electric holders, and a welding torch.
2. AHP AlphaTIG 200DX
Recently introduced in the market in 2016, the Alpha 200DX is a solid, budget TIG welder that has more in its slimline silhouette than in price suggests.
Sporting new and exciting developments such as the Pulse Width Modulated inverter and the AC frequency control, the Alpha delivers to its promise, regardless of whether it' s being used by a novice or professional.
An accurate welder for the thin metals, the Alpha is suitable on a variety of metals including steel and aluminum. Additionally, it can handle thickness of up to ¼" and 3/8 on aluminum and steel respectively.
Offering an incredible duty cycle of 60% at 200V, the Alpha is quite reliable, especially for the heavy-duty processes. The high duty cycle, alongside the incredible amperage, the Alpha will guarantee higher productivity.
The ability of the Alpha TIG 200DX to work in both 110V and 220V input power phases make this unit a suitable option for both the heavy as well as light-duty tasks.
Moreover, this unit comes with an HF start and a foot pedal, both of which go a long way at enhancing the operation regulation.
Given the Alpha 200X comes with an adjustable output frequency (A/C frequency), which helps in automating the entire process, you can now narrow the focus of your arc, allowing you to deliver a cleaner and thinner bead with many conveniences.
Advanced Inverter Technology
The AHP Alpha 200x features an incredible Pulse Width Modulation technology that automates the regulation of your welder's system.
As such, there's less power loss during the cycle, and this translates to longevity and reliability of the Alpha.
Additionally, the Inverter technology delivers a smooth stream of power resulting in a more consistent arc, and far more consistent weld.
The Alpha allows you either to works with presets if you're sure of the voltage and the balance needed to weld or put your personal preferences for the desired outcome.
Beyond the automation, this unit comes with a digital display that allows easy reading of the performance metrics.
Like all the best TIG welders, the Alpha 200X is a complete package, available with great accessories and ready to TIG weld out of the box.
3. Razorweld Digital TIG
Simplicity is the ultimate sophistication, and that is true with the Razorweld Digital TIG.
A modes welder, this 200A dual voltage machine will allow you to complete your weld with efficiency.
The Razorweld Digital TIG welder is an inverter-based that is increasingly becoming a popular brand among the professional and newbie welders, thanks to the amazing features.
Weighing 36 pounds, alongside a modest footprint, the Razorweld is highly portable and can be used by the welders who are always on the move.
Like all the TIG welders we've reviewed on our list, the Razorweld operates on both 115V and 230V.
What this means is that this unit can be used on to weld a variety of metals with different thickness. So, whether you're planning to weld steel, aluminum, nickel, copper, or any other metal, you can be assured the Razorweld will stand up to the challenge.
Also, the 115V input offering means the Razorweld does not need any specialized output and will allow you to use it on your standard wall outlet.
Generating 200A at maximum voltage, the Razorweld is incredibly powerful, and will not skimp when it comes to performance.
The output, paired with a duty cycle of 35% at 200A makes the Razorweld a truly amazing unit that will handle whatever you throw at it.
The digital controls on the Razorweld are not only to use, but they make the entire welding experience fun and amazing.
The digital display is yet another convenient feature that will provide you with a glimpse of the performance metrics of this unit, allowing you to make adjustments accordingly.
The high-frequency ignition is yet another awesome feature that offers pre-gas and instantaneous Arc ignition, by the simple press of the switch on the torch.
Sure, the Razorweld might not be the most budget-option on the only list, but it has a lot to be desired; the reliable performance and superior features make this unit worth considering.
4. Miller Maxstar 150 TIG Welder
Successful welding requires accurate amperage control, and the Miller is as good as it gets. An impressive welder, the Miller Maxstar offers an awesome functionality and is designed for versatility and performance.
A major highlight of this model is perhaps the astounding portability; weighing at 13.7 pounds, the Miller is the lightest welder we've come across, and it will allow you to carry it to the various welding locations with ease.
Miller can be used on either 115V or 230V, and this helps in adding great flexibility for your home or on-location use.
At maximum input, the Miller offers an incredible output capacity of 150A. I know, this is a tad lower to what we've seen on our list, but it's still sufficient to handle steel ranging from 0.020 to 3/16 inches.
The output is further bolstered by an impressive 30% duty cycle at 150A, but it can jump to 100% at 100A, meaning this little beast can handle your welding all day long without stopping for a break.
The biggest concern we had with this welder regarding performance is that it only supports DC, and so while it's featherweight and performance-oriented, it lacks the flexibility of working on aluminum.
The versatility of the Miller is simply unmatched.
This unit, for starters, can work on a variety of metals including steel, copper, chromium, nickel, and more.
Additionally, as we had mentioned above, it offers dual voltage, allowing you to adjust your welding process accordingly.
Internal cooling is a function that is often overlooked in welders.
Cooling is essential as it helps the fan to maintain optimal temperatures for maximum performance.
However, like any other function, cooling requires energy, and this is why the on-demand fans are more superior because they only turn on when it's absolutely necessary to.
The benefits of fan-on demand is that is results in less noise generation, lowers the energy consumption, and lessens the number of contaminants and dust that often get sucked in the machine.
With a welder, safety is paramount.
The Miller has an array of safety features that will keep both of you and the welder safe, and free from accident.
Notably, this unit comes with an overload protection system that helps to protect the welder against short-circuiting.
In spite of the advanced capabilities of the Miller, this unit comes with simple and intuitive controls, which are easy to use and will allow you to adjust the performance settings as needed easily.
Notably, this unit comes with remote fingertip control and a foot pedal, both of which will simplify the overall experience and allow you to adjust the amperage accordingly.
The Miller is a complete package that you can use right out of the box.
This unit comes with a host of accessories such as Weldcraft A-150 TIG torch, a multi-voltage plug, a carrying case, and more. Collectively, this will allow you to handle your welding process with much ease.
5. Hobart EZ-TIG 165i TIG Welder
The Hobart 165i is an all-around performer, ideal for both the beginners as well as professionals.
Easy to set up and use, the Hobart is suitable for welding anything from stainless steel to aluminum. According to users, the Hobart has excelled in the process of fine-tuning the setup, to your exact specifications.
Offering impressive versatility, and modest operation, a novice user, will enjoy the simplicity of the model while a seasoned welder will enjoy the plethora of features the Hobart has to offer.
The Hobart 165i is a offers dual voltage capabilities, meaning it supports both Ac and DC welding.
The benefit of this feature is that it will allow you to work on a bigger range of metals, including aluminum, magnesium, to stainless steel.
Infinite Amperage Control
Though the Hobart has an amperage range between 10A to 165A, the infinite Amperage Control function that eliminates the need of rounding up the amperage to 5 or 10 increments, but rather, allowing you to adjust the amperage to your specific needs.
Ultimately, the amperage control will allow for more precise control of your welding, and this will offer a consistent and smooth weld.
The high-frequency start is a non-contact arc start, which allows you to start the welding process, without tungsten coming into contact with the gas.
The benefit of this function is that since there's no contact between the tungsten and the material, it will help in eliminating contamination in the area.
The Hobart is rated at 20% at 150 amps. Admittedly, this is a pretty short duty cycle and can be quite of a hassle, especially if you're working on a tight deadline.
Similar to the Miller we had reviewed earlier; the Hobart also comes with a fan-on-demand. This is a technology that works by turning on only when required, and this goes a long way to reducing the energy costs, reduces noise, and extends the longevity of the machine.
Generally, the inverter-based welders are designed for portability as they're much smaller in size, compared to the cumbersome transformer welders.
The most important benefit is the fact that the inverter welders are efficient, as they pack a lot of power into a small unit. And using the special technology to store and disperse the energy, the inverter welders can deliver more power and a more stable arc.
The Auto-post flow function provides the weld pool with optimum shieling gas, and this helps in reducing wastage as well as time for adjustments.
6. Lincoln Square Wave TIG 200
The Lincoln Square Wave offers a perfect TIG/Stick combo.
Simple to use, the Lincoln comes with everything you need to start welding and has all the features for reliable performance.
Suitable for hobbyists, small fabricators, and craftsmen, the functionality of this machine will allow you to learn and expand your welding expertise easily.
The Lincoln offers both TIG and Stick capability, allowing you to work on a variety of materials.
TIG is suitable when you're looking for precision, while the stick is ideal for working on the thicker materials and aesthetics are less relevant.
Versatility on this unit is further extended to the dual voltage power option (AC and DC). The dual voltage option will further allow you to work on an expanded selection of metals.
Though the controls on the Square Wave seem daunting at first, they're pretty easy to configure and use.
The controls are quite basic, and will not require any knowledge to operate them.
The AC balance is an incredible feature, which will offer better control of your welding machine. This feature will allow you to adjust the AC in the range 69-90% EN.
You can choose a lower electrode negative when working on thin metal, and need a wider bead and greater cleaning action.
The Higher electrode negative, on the other hand, is ideal when you need greater penetration, a narrower bead, and higher travel speeds with greater aesthetics.
The pulse mode, as opposed to constant output, will allow you to have a pulsed current, which allows you to adjust your welding depending on the material you're working on.
Like the Hobart, the Lincoln Squarewave has a high-frequency start, which allows for non-contact welding. This helps to deliver a clean and smoother weld.
Best TIG Welder Buyer Guide
If you're in the market in search of the best TIG welder, you're certainly going to come across a plethora of options. At times, the options can be quite confusing.
Gladly, we shall help you choose the ideal TIG welder for your needs.
In the section below, we shall look at some of the crucial considerations to make before making your next purchase.
What to Consider Before Purchasing a TIG Welder
Amp Rating
The power output from a TIG welder is measured in amperage (AMPs)
The higher the rating, the more power potential a TIG welder has. High-rated welders can handle thick metals with relative ease and will allow you to complete your job faster.
Besides power potential, a high-rated TIG welder is quite versatile, as they will allow you to handle a plethora of metals and processes.
Low-amperage welders, on the other hand, are also good performers, especially if you're dealing with thin metals. This is because a higher amperage rating might burn through the thin metal.
For this reason, it's recommendable that you get a TIG welder with much flexibility with the range as possible. This will allow you to work on both the thick and thin metals with relative ease.
Dual Voltage Capacity
For the ultimate flexibility, you would want a TIG welder that supports both AC and DC output.
This is because each output is better suited for particular tasks.
DC output, for instance, is ideal for welding harder materials such as stainless steel/
AC welders, on the other hand, have self-oxidizing properties, making them ideal for use on metals such as aluminum and magnesium.
As such, you are having a welder with both capabilities will increase the versatility of the processes that you can handle, as well as the metals that you can weld.
Solid Duty Cycle
Duty cycle is the period which a welder can work before going on a break.
Duty cycle is often measured in 10-minute distribution, and it's expressed in a percentage.
For instance, if a welder has a duty cycle of 30%, it means it can continuously work for 3 minutes, before going into a 7-minute break.
Lower priced welders usually have a low duty cycle, often averaging at 20%, while the welders on the upper end of the scale have duty cycles near 60%.
The higher the duty cycle, the more powerful and larger the supply of power; you would want to have a higher duty cycle, especially if you're working on a deadline.
Transformer or Inverter
Transformer and inverter welders are basically the two major types of TIG welders.
Before inverter welders came into the limelight, the transformer welders were quite popular.
The transformer welders, however, were severally restrictive, especially with regards to weight, operation, and efficiency.
The inverter TIG welders, on the other hand, though quite complex, they're lightweight, easy to use, and more energy-efficient.
Safety Features
When purchasing a TIG welder, or any other welder for that matter, you would want to choose one with safety features.
During welding, you would want to choose a welder that allows the stabilization of the arc to create a smooth weld.
You would also want a welder with pulse welding technology to minimize warpage to prevent burning of the material, especially if you're working with thin materials.
Finally, you would want a welder with safety features such as overload protection to prevent short-circuiting.
Simple Operation
We've already stated that TIG welding requires a skill. This is to mean that you would want a TIG welder that is both user-friendly and easy to understand.
Ideally, you TIG welder should have intuitive controls, which are easy to understand. Having a digital display is a bonus that should allow you to read the performance metrics with ease.
Having accessories such as foot pedals, will also give you greater control over the performance of the device and allow you to focus on your job.
Why Choose TIG Welding?
Delivering a smooth weld using TIG process does not come by easily. But why would you want to have TIG welding over other types of welding?
Let's look at some of the benefits of TIG welding:
Comparatively, TIG welding utilizes less amperage or rather has a lower energy output. This might seem like a disadvantage, but in reality, it' is not.
Why?
The lesser output makes the TIG welder a suitable solution for welding the thin metals without burning them. Therefore, if you're to work on materials with a thinner gauge, you might want to consider TIG welding.
TIG welding is also quite versatile, and a big part of this is because of the low amperage alongside the foot mechanism. This allows this the welder to change amperage with ease, enabling you to work on the various type of son metals in a single pass.
TIG welding, unlike other processes, does not leave a slag after the process, but it's clean, allowing you to concentrate on the welding rather than cleaning the metal.
The most frequently cited benefit of TIG welding is an incredible control. TIG welding allows precise control of both the amperage and heat, allowing you to configure your process accordingly. Ultimately, this will result in smooth welds, especially where you've to deal with intricate designs.
Conclusion
We've already covered a lot of ground regarding the best TIG welders, and everything you need to know about purchasing them.
Ultimately, the decision is you're to make.
However, if you're to purchase one, we would highly recommend that you choose one from the above list.
All the TIG welders on our list have gone through thorough testing and will deliver on what they promise.