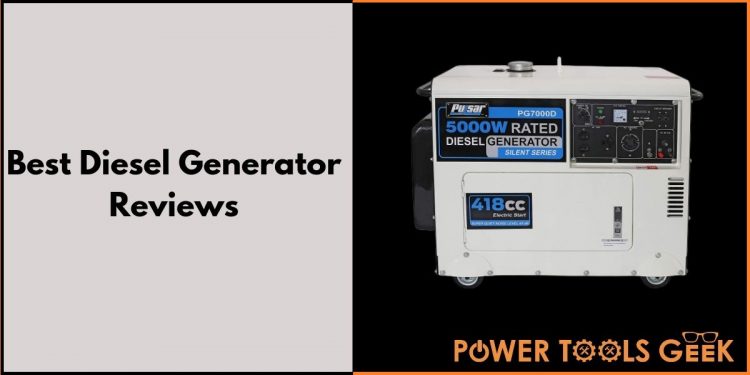 4 Best Diesel Generators – Expert Reviews for 2021
Generators can be a lifesaver during power outages and can serve as the perfect backup power source to keep your home or business up and running.
If you've been searching for the best diesel generator, you've probably come across a variety of options. However, for whatever reasons you plan to you use your generator for, it's crucial to ensure you have a reliable and durable generator.
After thorough research and testing, we concluded that the Generac XD5000E is the best diesel generator the market has to offer. Still, the other generators in our list are competitive, regarding performance, ease of use, and value.
Our experts spent hours consulting with professionals and manufactures and concluded the Generac model to excel all other available options in the market
Comparison Table & Runner Ups
Finding the best diesel generator can be at times overwhelming, and this is the reason we have created this tabular comparison below to help you pick the right diesel generator for your needs.
In the table below, we shall highlight the major features of each brand and help you compare each product against the other.
Wattage: 5kW

Fuel tank: 12 gallons

Runtime at 50% load: 32.4 hours

Noise:

Weight:

247 lbs

Wattage: 50kW

Fuel tank: 62 gallons

Runtime at 50% load:28 hours

Noise:

70 decibels

Wattage:5kW

Fuel tank: 4 gallons

Runtime at 50% load:9.5 hours

Noise:70 decibels

Weight:

353 pounds

Wattage:5.5kW

Fuel tank: 3.83

Runtime at 50% load:12 hours

Noise:70 decibels

Weight:

230 pounds
Top 4: Best Diesel Generators Review
Diesel generators are used in almost every industry, and can be seen all around you from the constructions sites, campgrounds to residential properties.
Contrary to gasoline or propane, diesel generators are powerful, will allow you to enjoy longer runtime and are economical. This is not to mention that diesel generators are relatively safe, compared to the flammable and combustible propane/gasoline.
These electrical devices are diverse and can handle even the toughest projects.
However, choosing the best diesel generator that befits you is a challenging task. The features and specifications of a generator can be a lot confusing, especially if you have not used a generator before. And given that these electrical devices do not come cheap, there's the added pressure of cost, as you don't want to throw your money away.
Gladly, we have created this thorough review guide to help you choose the best diesel generator. Here, we shall review the top 4 diesel generators in the market, and at the end of the article, we shall provide you with a buyer's guide that should help you choose the best generator.
1. Generac Protector Series Diesel Standby Generator
Generac 50Kw has already raised the standards for the residential and commercial generators, thanks to its functionality, and value.
Though not ideal as the primary source of power in places of utility or life-support applications, the Generac can provide you with backup power within seconds of an outage, and will eliminate the stress and inconvenience of losing power in your household.
This generator is one of the powerful and robust models that you will come across in the market.
This Protector Series model boasts of a power rating of 50,000w. Now, if you know anything about generators and power ratings, you understand that this model will provide you with all the power you need to keep your entire household running.
Whether you are planning to keep your heating, refrigeration, communication, or power tools working optimally even in the event of a power outage, the Generac will ensure that your life is not disrupted.
Easy to Use-Evolution™ Controller
For such a powerful and gigantic generator, you might get tempted to think that it's complex to use and operate.
Fortunately, this beast comes with an intuitive control panel that is not only convenient but easy to use.
A major highlight to the control feature on this unit is the Evolution™ Controller. The Evolution™ Controller is a high-tech control function that features a variety of control features for intuitive usage.
Efficiency at its best, this generator will provide you with an incredible runtime on its gigantic 62-gallon fuel tank.
While running on a full load, the Generac will provide you with 15 hours of runtime, and when running with ½ load, it will provide you with 28 hours. Better yet, while running at ½ load, you have an option of extending the runtime to over two days.
With such an incredible runtime, it doesn't matter what the power outage throws at you or for how long it lasts as you'll always have a reliable backup option.
Whether you're using your generator or running the weekly test, you'll appreciate the ultra-quiet operation of the Generac.
At full load, this unit will produce 70 Decibels, which is quite reasonable for such a powerful generator.
The modest noise levels of this unit mean you can use the generator in a commercial complex with many businesses without disrupting peace.
Nowadays, building and zoning codes vary wildly from one region to other, and the only solution to get a generator that will fit your needs is to order an expensive, custom-figured unit.
But that ends now, thanks to Generac's code ready function. The code ready function is a set of pre-customized options that promote compatibility of this unit for a variety of applications.
With the Generac, therefore, you are assured of compatibility in a variety of environment, and this makes this unit ideal for all building coding zones.
2. Generac XD5000E
The Generac XD500E is yet another mid-range generator model that represents excellent value for money.
Though it's ideally designed for use at home, it's also engineered for industrial applications, and can cope with a variety of conditions.
The Generac is as solid as it can get, thanks to the solid steel frame construction, which is built to last.
With a modest dimension of 33.1" x 22.5" x 25.6, and a weight of 247 pounds, this unit is far from lightweight and will only achieve the term "portability." The weight on this unit is far from what a majority of the generators offers, and this considerably limits the portability of this unit.
The good news is this unit comes with an integrated lifting eye, allowing you to bring this unit anywhere you want. Further to this, the unit comes with a portability kit, which includes handles, wheel, and a front foot, and collectively, these features help to make this unit more portable.
Under the hood of the Generac, we have a Yanmar LW Series 435cc air-cooled, utilizing direct fuel injection.
The drivetrain on this unit can generate 5,500 starting watts and 5,000 running watts of electricity. Beyond the power, this unit guarantees balance while providing smooth operation with minimal vibrations.
The power on this model alongside its capability of generating 9.3HP at a constant speed of 3600 RPM makes the Generac an ideal option or lighting up your entire house without a hassle.
Also, unlike the Generac 50kW, we had reviewed above, this unit is relatively portable and can be used for other activities such as outdoors.
The Generac is one of the fuel-efficient generators we have in the market.
Sporting a generous 12-gallon diesel fuel tank, this unit can provide you with a runtime of 32.4 hours when running at 50% load. This is to mean that you can use this generator for a whole day even from morning to morning, without worrying running out of power.
When running at full load, the generator will still provide you with a decent runtime of 16 hours, allowing you to run dawn to dusk event comfortably.
Despite the powerful and enormous output, you'll be glad to know that this unit is compatible and will support even your most sensitive electronics.
The True Power Technology on this unit provides a total harmonic distortion of <5%, and this makes it ideal for distributing clean electricity.
What this means is that you now use this generator on virtually all your electronics without worrying about their structural integrity getting compromised.
Another major highlight of using this unit lies in its ease of use; this unit is easy to use even for those operating the unit for the first time.
Beyond the easy to read manual and tutorials, this unit comes with a user-friendly control panel. This panel has decentralized all the control functions, and it contains all the features you need in one place.
3. Pulsar PG7000D
If power truly matters, you might want to consider the Pulsar PG700D. Offering some serious power output, the Pulsar is your best bet for a reliable inverter that will not cost a fortune.
Extremely versatile, this generator is ideal for various applications including job sites, mobile mechanic, and other tasks that require a continuous supply of heavy loads.
Like we had mentioned earlier, the Pulsar is one of the units that will provide you with some serious power.
Sporting a 38 x 32.5 x 22 in, which is, by the way, better than a piston engine, this unit can crank a surge output of 7000w and a continuous output of 5000w.
With such an output, this generator can handle a majority of all your power tasks, including powering your household, commercial enterprise, and even your job site.
Besides the impressive power output, this generator does remarkably well when it comes to noise reduction.
It's or a reason that the PG7000D is part of the Pulsar silent series generators. These generators are known for their ultra-quiet operation, thanks to the close-frame design, which promotes insulation of the sound generated.
More importantly, is the efficient air cooling technology in the unit's engine that allows the Pulsar to produce as less sound as realistically possible.
Running on a 10-HP single cylinder diesel engine, this generator is not only exceptionally efficient at cranking out power, but it also has a generous runtime.
This generator will provide you with an impressive runtime of 9.5 hours when running at 50% on its 4-gallon fuel tank.
Beyond its adeptness for use in various applications, the Pulsar 7000 comes with multiple outlets that will allow using the generator to power multiple appliances simultaneously.
4. DuroStar DS7000Q
If you're looking to get the best out of the money, the DuroStar DS7000Q portable generator should be your first option.
Powerful, long-lasting and with efficient fuel consumption, the DuroStar is the answer to all your electricity back-up plans.
Everything considered the DuroStar comes out at the top when it comes to overall performance and sails past all its competition with an incredible set of features and a price that you cannot beat.
From power to reliability, this product will provide you with the best benefits and ensure it powers you throughout the night or through a whole-day event.
Boasting of peak power of 6,000 watts and a running output of 5,500 watts, the DuroStar is powerful enough for use as a primary source of power and a reliable unit for emergency uses.
Whether you plan to use this generator to light up your farmhouse, use it on your jobsite, or during power outages in your household during power outages, the DuroStar will not fail you.
Under the hood, the DuroStar sports a solid 4-stroke single-cylinder direct injection diesel engine that will fulfill all your energy needs. More importantly, this system will help in the efficient burning of fuel and generate a cleaner emission.
When it comes to the performance of this engine, you might get tempted to think it's a fuel guzzler; contrastingly, the engine has incredible performance with a generous runtime of 12 hours when running at half a load.
With this generator, you rest be assured of constant power and smooth operation from dusk to dawn.
Comparing the size to noise ratio, the DuroStar is considered as a quiet generator, in all means.
With a dimension of 37.8 x 22 x 30.3 in, the DuroStar is considered as a large generator.
Nonetheless, you'll be surprised at the ultra-quiet operation of this monster generator.
With a noise rating of 70 decibels, the DuroStar is even quieter than some of the smaller machines and is often considered excellent by standards in the generator domain.
The key to the ultra-quiet operation on this model is the large muffler, which dampens the noise and keeps it at an acceptable noise level. Beyond the noise, it also helps to keep the engine from overworking itself to the point of damage.
When it comes to safety, the DuroStar DS7000Q does not make any compromises; this unit is packed with a plethora of safety features for maximum safety.
This generator features a low-oil automatic shutdown, and a full power panel with circuit breakers keyed ignition and voltmeters.
Weighing at 230 pounds, the DuroStar is a heavy and large generator. However, this does not limit its portability. In fact, the generator is classified as a portable generator and is ideal for use for outdoor activities such as camping, RVing, and outdoor events.
Sporting a rectangular-shape, this unit comes with four small wheels which provide mobility allowing you to push the generator without the need to carry it easily.
What to Look for While Buying the Best Diesel Generators?
If you're looking to purchase a diesel generator, you might want to have a rudimentary understanding of how these equipment function.
Again, you might want to compare the existing models to find which is right for your needs.
While I have my favorite one, it might not be sufficient for your needs. To help you find the right generator, we have compiled this exhaustive buyers' guide to help you pick your right generator for your needs.
Types of Diesel Generators
Before we look at the diesel buyer guide, let us look at the various types of diesel generators in the market.
The classifying a diesel generator, we use various categories such as power ratings, cooling systems, uses, and start-up arrangement.
Based on Power Ratings
When classifying generators based on power ratings, diesel generators are classified into three; small, medium and large.
Both the small and medium-sized generators are ideal for the lightweight to moderate domestic and commercial tasks, while the higher-rated generators are ideal for the heavy industrial and marine purposes such as mining.
Based Purpose/ Use
Speaking of mining, diesel generators can be classified according to the purpose/use.
Primarily, their uses are based on their power ratings, and the two common classifications of generators based on use is;
Contractor/ industrial generators: like their name suggest, these generators are used in construction sites and other settings where no alternative power of supply is available. Most of these generators are heavy large and heavy duty and are tailored to generate a great deal of power for long periods.
Domestic generators: Domestic or household generators are moderately powered generators that are commonly used as stopgaps when a home loses power. They are not as heavy duty as the contractor generators, and usually, generate a lesser amount of output. Nonetheless, they're still handy for the lightweight to moderate construction tasks.
Based on the Number of Strokes
A generator engine, diesel ne notwithstanding, is classified by the number of strokes, or rather the number of revolutions that the piston travels when rotating the crankshaft.
While there are various engine strokes, with each stroke-engine carrying its benefits and drawbacks, it forms the basis of diesel engine classification.
Based on Service Duty
Service duty is further classified into:
Emergency Standby Power (ESP) duty: ESP generators are usually used for emergency purposes and will normally not run for more than 100 hours in a year, ESP is used for supplying power for a limited period, especially during power outages. They are common in residential and commercial settings, where the flow of power is needed constantly.
Prime Power (PRP) Duty: These units are used during emergencies, or when there is an expected power cut.
Continuous Power (COP) Duty: Like your conventional power grid, these diesel generators can run unlimited hours and will provide a continuous stream of power. However, unlike the conventional power grid, these generators cannot handle variable loads. Their continuous output, however, makes them ideal for use in remote locations where the grid is unavailable.
Based on Start-up
Diesel engines are also classified on how they are started. The three popular start-up procedures are;
-Manual Start
-Automatic start-up, long break.
-Automatic start, No Break
Based on the Cooling Systems
Like any other machine, generators require a cooling mechanism to prevent overheating when running the engine.
Diesel generators have different cooling systems, but the main ones include;
Air-Cooled Diesel Generator
Air-cooled generators rely on air to cool the heated engine. Unlike the water-cooled engine, these engines do not require additional parts, save for a specialized air intake system.
To cool the engine, the air is forced to the metal fins surrounding the engine, and this helps in cooling the engine.
Water Cooled Diesel Generators
These generators, on the other hand, come with an extra radiator and water pump that run the water through the engine and thus helping in cooling the engine.
Though quite effective, and will allow your generator to work for much longer without overheating, water-cooled engines require more maintenance.
Benefits and Drawbacks of Diesel Generator
Though diesel is typically an expensive fuel than petrol, diesel generators have great benefits over petrol and other fuels. While at it, however, it's not always rosy as the diesel generators still have their shortcomings.
I the section below, we shall look at both the advantages and disadvantages o diesel generators.
Advantages of Diesel Generators
Low Maintenance
The very first benefit of diesel generators lies on their low maintenance costs.
Unlike petrol generators, which require sophisticated appliances and tools such as spark plugs and carburetors, a diesel generator is simple and will not require replacement of spark plugs or rebuilding of carburetors.
Fuel efficiency
With regards to fuel efficiency, diesel is known to outlast other fuels, as it burns 50% less during operation.
Also, though diesel is not cheaper than petrol, it's relatively cheaper in comparison to gasoline or propane.
Extended Lifetime
Regarding lifetime, diesel generators will last longer than gasoline generator.
For instance, a typical gasoline generator will last for 1000 hours, and on the other hand, a diesel generator will last for 30,000 hours without requiring a major overhaul.
Durable
Diesel has self-lubricating properties and this contributes to the longevity of the generator. Similar to grease or any other lubricating product, diesel will lubricate the moving parts in your generator, and this allows for a smooth and efficient operation.
Easy to Store
Unlike gasoline or propane, diesel is easy to store. Though flammable, it does not pose much risk as to the explosive gasoline.
Cons
Noise
One of the biggest drawbacks of the diesel generators lies on their noise. The diesel generators are not the ideal units to use for tailgating or in a serene neighborhood as they generate a lot of noise.
The good news is there are a plethora of methods you can employ to make your generator quieter, such as installing a large muffler or enclosing your generator to limit sound.
High Initial Set Up
When setting up the diesel generator, you will realize that it requires a higher capital or rather investment than other forms of energy.
However, with time, it can be seen that the diesel costs are much lower than those of gasoline.
Overall the benefits of diesel generators outweigh the cons by far, and this makes the diesel generator a better purchase.
However, understand that whether you opt for a diesel generator or other form of generator will depend on the usage. For instance, if you are looking to use a generator for intermittently, a gasoline generator might be an inspired choice, but overall, diesel generators are considered more economical.
What to Look for In an Ideal Diesel Generator
The diesel generator is pretty similar to any other form of generators in the market, and so, the features to look out for are similar to those of any other generator.
Let's look at them in detail:
The power output of a diesel generator is of the essence when selecting an ideal generator because the amount of load carried by a generator depends on the power output.
Now, if you choose an undersized generator, you'll have to deal with a lot of frustration and inconvenience as it will supply you with less power. And on the other hand, if you get an oversized generator, you'll get a unit that will consume a lot of fuel, not to mention the high initial cost.
To choose the ideal model, you'll have to determine your total wattage requirements, and based on this; you can choose a generator that is 20% more of your requirement.
There's no set standard on fuel efficiency as each manufacturer differs from the other.
Nonetheless, fuel efficiency refers to the rate at which the diesel is used during an operation.
For economic, value, we encourage our readers to choose a generator with higher fuel efficiency.
How quiet or loud do you want your generator?
Diesel generators are generally loud, but it does not mean that you have to settle for a loud unit.
In any case, still within the diesel generators, some units are relatively quieter than their counterparts.
For instance, within the diesel domain, you might find the noise rating ranging from 50 to 100+ decibel, which is quite a significant disparity in terms of sound produced.
Ideally, if you are looking to find a diesel generator with an ultra-quiet operation, go for those with noise dampening features such as mufflers, or built-in enclosure.
If you are planning to use your generator for RVing, camping, or any other mobile activity, it's integral that you find a lightweight and portable generator.
Better yet, find one with portability features such as handles and legs.
However, if you plan to use your generator in a permanent position, portability and weight should be a non-issue.
Generally, generators are not quite expensive and are seen as a lifetime investment. Therefore, you would not want to choose a flimsy unit that is going to break down after short use.
Rather, you need to find a durable, and solidly constructed generator, ideally one made from heavy-duty materials such as metals, and this should provide you with years of service.
In all electrical equipment, safety is paramount for both the user and their equipment.
If you are to choose an ideal generator, choose a generator that has included a set of safety features that will prevent overheating, overloading, and short-circuiting.
More importantly, if you are looking for clean power, choose an inverter generator. Inverter generators, with a total harmonic distortion of less than 5% are ideal for your sensitive equipment. Inverter generators are ideal for virtually all types of equipment as they generate a power akin to that you get from the power grid.
The cost is not exactly a feature as you would have hoped for, but rather a crucial aspect that you should pay attention to.
Like anything else in life, you get what you pay for.
Generally, in generators, higher-priced models often have more features than the lowly-priced models. However, it does not mean you have to go for the most expensive unit but rather go for a generator that is within your budget range, and most importantly, one that will satisfy your power needs.
Conclusion
Now, whether you are looking for a backup power plan for your home, a powerful solution for your commercial enterprise, or a portable power source for your jobsite, the above portable generators are packed with all the essential features to ensure they fulfill your power needs.
Hopefully, the above guide shall help you in making a more informed decision when purchasing your next diesel generator.