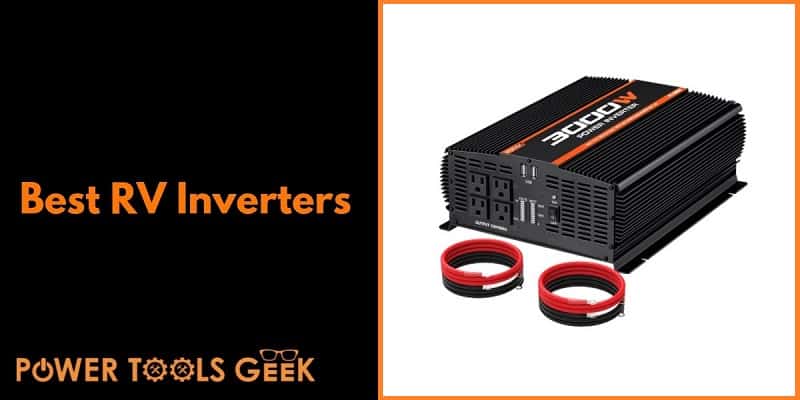 Best RV Inverter Reviews in 2021 – Super Budget Guide
If you are planning to camp with your friends or loved ones, the experience will be more rewarding if you have the best RV inverter.
An RV inverter works by converting DC to AC energy to supply you with a constant stream of power output.
But with plenty of choices to pick from, choosing the best RV inverter is no easy feat. Fortunately, we have compiled this awesome review guide to help you choose the best inverter for your RV needs.
After thorough research, we found the AIMS Power 3000 to be the best RV inverter for 2020. Still, the other inverters on our list are a great option.
KRIËGER 4000, with a surge rating of 8000W straddles in between offering both convenience and performance.
It's pure sine wave inverter with the highest surge power rating of 9000W
Though a budget option, this unit has a dependable performance, and more importantly, a multi-purpose option, thanks to the several receptacles.
Comparison Table & Runners Up
In the comparison table below, we shall highlight the top ten inverters on our list, and compare their features.
The tabulation is a quick summary of all the products on our list and will help you pick the right inverter for your needs.
Continuous wattage: 3000W

Surge wattage: 9000W

AC outlets:2

USB Ports: 1

Extras-

Smart charging, Auto-gen feature, an Auto transfer switch

Continuous wattage: 4000W

Surge wattage:8000W

AC outlets:2

USB Ports: 2

Extras:

Installation kit included

Continuous wattage: 2000W

Surge wattage:4000W

AC outlets: 3

USB Ports: 1

Continuous wattage: 3000W

Surge wattage: 6000W

AC outlets: 3

USB Ports: 1

Extras-

5-tiered protection

VertaMax PURE SINE WAVE 3000

Continuous wattage: 3000W

Surge wattage:6000W

AC outlets:3

USB Ports: 0

Extra-

LED display

Go Power! GP-SW3000-12 3000

Continuous wattage: 3000W

Surge wattage:6000W

AC outlets:2

USB Ports: 1

Extras-

Readouts, Mounting tools

Continuous wattage: 3000W

Surge wattage: 6000W

AC outlets: 4

USB Ports: 2

Extras-

Intelligent cooling fans

VertaMax Modified 3000 Watt

Continuous wattage: 3000W

Surge wattage: 6000W

AC outlets: 3

USB Ports:

AIMS Power 3000W Modified Sine Inverter

Continuous wattage: 3000W

Surge wattage: 6000W

AC outlets: 2

USB Ports: 1

Extra:

Internal thermal fan

Xantrex 81201012 Inverter

Continuous wattage: 2000W

Surge wattage:

AC outlets: 2 GFCI

USB Ports: 2
Top 10: The Best RV Inverters
If you are out in the woods tailgating or camping, having an RV inverter is essential, as it will allow you to power your RV.
By taking DC from your RV generator, the inverter will then convert it into AC power, and this will make it palatable to your RV electronics.
However, with so many inverter products to choose from, picking an inverter that will suit your power needs is a Herculean task.
It's or this reason we have compiled this review guide to review the best inverters. Alongside the reviews, we also have a buyer's guide section that will help you make a more informed choice.
1. Power TechON 3000W
If you are in search of the best RV inverter for around 3000W you can never miss the Power TechON 3000.
Boasting of a running wattage of 3000W and a surge wattage of 6000W, you will always have a peace of mind knowing that you can use this device in your RV or travel trailer.
An ETL certified pure sine inverter, you can use the TechON on your sensitive electronics without ever worrying about their safety getting compromised.
Delivering reliable power of 6000-watt surge power and 3000-watts running power, this inverter is an ideal option for powering most of your RV appliances.
Whether the TV, refrigerator, fan, or the lighting system, this unit will comfortably power them, making your RV experience more wonderful.
Besides power, users love the stability offered by this inverter, thanks to the low THD <3%, which promotes a high level of efficiency and performance.
Though is marketed primarily as an inverter for RVs, this unit is versatile and can be used on a plethora of locations including boats, cars, vessels, travel trailers and even at home, during emergencies.
Versatility extends to the devices the unit can accommodate as it comes with three AC ports alongside one single USB port, and this will allow you to charge up to four devices simultaneously.
In an RV, space is premium, and you would want a device that will save on your space.
The Power TechON lives up to that, thanks to the modest dimensions and lightness.
Safety is integral when dealing with sensitive equipment; Go Wise understands this and has fitted this unit with a multi-tiered protection safety.
This tired system consists of 5 levels of protection encompassing:
2. AIMS Power 3000
Offering a whopping 9000 Watts of surge power for up to 20 seconds, the Aim power 3000 is surprisingly affordable for the inverter this caliber.
Besides affordability, another reason that makes this model a favorite among travel trailer enthusiasts is that it's durable.
Delivering a high output of 9000W of surge power and 3000w of running power, the Aims 3000 is one of the highest in terms of power output.
This high power output makes this unit an inspired choice to use on devices requiring high start-up energy such as pump, fridges, and compressors.
Though the surge wattage on this unit will only last for 20-seconds, it still makes this unit a heavy-duty option that can be used in the industrial and marine domain.
Similarly, it's also an ideal power option in other locations such as RVs, travel trailers, and for use in powering household appliances.
Automatic Transfer Switch
The automatic transfer switch is a handy feature that allows for a continuous supply of energy to your appliances.
Whether the AC power cuts off or the voltage falls below the acceptable levels, this unit will automatically initiate the transfer of backup power without you needing lifting a finger.
Still, in the same breath of what we have discussed above, the Aims 3000 can be customized to automatically start your generator, once the AC power goes off.
Smart Charging Capability
Rather than supplying a constant stream of power, the Smart Charging feature allows the unit to adjust the power delivered to your appliances depending on its size and power rating.
This is essential as it helps to prevent instances of over-voltage and more importantly optimize on the energy distribution.
Regarding safety, you can be assured of the protection of your appliances since this unit is UL certified for safety and quality.
What we like most about the safety aspect of this device is that it keeps it cool and will never overheat or reach a point of shutting down or catch fire. This is all thanks to the plethora of safety devices which include thermal fuses, a quiet cooling fan, overload protection, and over-temperature protection.
3. VertaMax PURE SINE WAVE 3000
The VertaMax Pure Sine Wave is a complete package, featuring all the amenities that you would need to run your RV.
A product of Windy Nation, users find unit an impressive, thanks to its ability to supply a reliable stream of energy to the appliances in your RV.
One of the features that makes us think that the VertaMax is tailored for the RV users is that it comes with three grounded AC outlet alongside a hard-wired terminal block.
While the terminal block is primarily designed for permanent AC connections, each of the 115 AC outlets, are compatible with most of the RV appliances. Also, the individual AC receptacles feature their respective circuit breakers.
Providing you with a running power of 3000W and surge power of 6000W, the VertaMax is on the high end of the scale when it comes to power output.
With such an output, your muscles for powering appliances are ripped to a plethora of heavy duty appliances.
More to this, this inverter generates a pure sine wave output, meaning you can now power your sensitive electronics including phone, laptops, and TV, without worrying they'll get "fried."
The VertaMax is sturdily constructed to offer the strength it needs to stand up against the drops and bumps.
Reliability in the design is further complemented by the presence of a host of safety features that will protect your appliances against overvoltage, short-circuiting, and reverse polarity.
4. Go Power! GP-SW3000-12 3000
Sporting a distinctive yellow color, you can never fail to notice this powerful inverter from go power. Highly energetic, this unit will provide you with an output, just the replica of what you get from your local power grid.
Suitable for RVing, this unit pack plenty of power, and this makes powering up plenty of devices a possibility.
As we had indicated above, this monster is capable of delivering up to a surge output of 6000W, and this makes it quite a dependable model.
With this unit, your powering options are expanded as it will allow you to charge your laptop, fridge, microwave, TV among a host of other appliances.
Like all the inverters in our best Inverter for RV, this unit has advanced circuitry that will be guaranteed to the generation of reliable and smooth output, devoid of surges.
This makes it possible for you to power your sensitive equipment such as tablets, phones, and laptops.
Sporting a couple of outlets, with each receptacle protected by GFCI, this unit is versatile as it can get as it will allow you to charge multiple devices simultaneously.
Though it does not feature an LCD, this Go Power units comes with a couple of readouts that are designed to provide you with the performance metrics of the inverter.
Another convenience feature on this unit that we liked is the presence of mounting hardware and tools that will make for an easy time when setting the unit for a long-haul truck or RV.
5. KRIËGER 4000
The KRIËGER 4000, a product of the infamous KRIËGER brand, has done remarkably well to earn the trust of many RV enthusiasts.
For starters, a major highlight of this product is that its all-inclusive, meaning that it comes with all the installation and performance extras including a wired remote control, ANL fuse kit and a 3 feet battery cable.
With the aid of KRIËGER 4000, you'll have a chance to enjoy a stream of reliable and clean power supplied to your RV.
With a robust power output of 4000 and 8000 running and surge watts, there is little that you cannot power with this unit.
From the refrigerator, microwave, oven to your TV, the KRIËGER 4000 will provide you with sufficient energy for all your power needs.
KRIËGER 4000 has a plethora of safety features that will keep your equipment safe.
Save for the clean energy; this unit will protect your appliances against overload, short-circuiting, overheating.
And you do not need to take a word from KRIËGER as this unit is approved by METLAB for both safety and performance.
6. POTEK 3000W
Potek is yet another awesome choice that is suitable for RV uses. Aside from a compact design and portability, this unit is handy equipment for RVing, thanks to the multifunctional use.
With a reliable power output, the Potek 3000 is ideal for a variety of power conversions including coffee makers, cookers, refrigerators, and more.
The major highlight of the Potek 3000W is that it's versatile as it can get.
For all the RV inverters we have reviewed above, this is the only one with the largest number of outputs, totaling to six; 4AC outlets and 2 USB ports.
With such versatility, the Potek will allow you to plug up to six devices simultaneously for the ultimate convenience.
If you last inverter has been plagued with issues of overheating, you can put that to rest in the Potek as it features intelligent cooling fans.
What these fans do is they increase their speed depending on the load, and they will not run when the inverter is turned off.
This helps in optimizing the performance of the inverter as well as saving the inverter the risk of overheating.
Safety on this unit goes beyond the cooling fan, but also extend to your appliances.
This unit comes with a plethora of safety features such as under voltage protection, overvoltage protection, and short-circuiting protection to keep your appliances safe.
7. VertaMax Modified 3000 Watt
Like the KRIËGER 4000, we had reviewed above; the VertaMax Modified 3000 is an all-inclusive inverter generator that includes Cables + Remote Control Switch + ANL Fuse.
A product of Windy Nation, this inverter includes everything you need and will get you powered while on the go.
If you are in search of a reliable modified sine inverter that will provide you with plenty of power, the VertaMax is an awesome choice.
Providing surge energy of 3000W, this inverter will allow you to power numerous electronics including computers, cell phones, video games consoles, and TVs.
A major highlight of this unit is it features an LED display that will provide easy reading of the performance metrics.
With this unit, you can easily get to know the consumption of your devices, status of the battery voltage, and wattage in general.
The benefit of the LED display is that it allows you to monitor your battery as well as the power use easily.
Featuring an extremely sturdy and compact design, the VertaMax 3000 is built with durable materials that will allow this unit to withstand the extremes of nature.
The sturdy build on this unit also incorporates a myriad of safety features that will keep your electronics protected at all times. Some of the safety features we are referring to include overvoltage, overloading, short-circuiting, and under voltage.
When it comes to the receptacles, you will be glad to know that this unit comes with three grounded units alongside a hard-wired terminal block, that will allow you to get permanent AC connections.
8. AIMS Power 3000W Modified Sine Inverter
A lot of inverter generator reviewers usually include the Aims Power 3000 in their list of the recommended inverters for RVs, and it's for a reason.
However, it's essential that you do not confuse the AIMS Power 3000W Modified Sine Inverter we are reviewing now, with the Amis 3000 we had reviewed earlier.
Like the earlier Aims we had reviewed, these inverters will provide you with a running output of 3000W and a surge output of 9000W.
Both of these products from Aims Power have similar output, and it's so far the largest we have seen on our list.
Their "largeness" goes beyond our list as few inverters usually have such a high wattage.
With the AIMS Power 3000W Modified Sine Inverter, you can use it to power some of your power-hungry equipment, or rather equipment that requires a high startup wattage such as refrigerators, pump sumps, power tools and more.
Again, like the Aims 3000, this inverter comes with a chic design, and more importantly, a compact and lightweight design that will not take much of your space.
At the very least, the modest design will not impose its presence, and it leaves a small footprint.
Inverters tend to get extremely hot when working, and overheating can take a toll on their performance.
To keep that from happening, Aims Power has fitted this unit with thermal cooling fans that are more effective than the conventional fans, and they will keep this unit working at optimal temperatures.
This will help to improve on the performance of the inverter, and more importantly, make the inverter last for long.
Like all the best inverter for RV on our list, the Aim 3000 modified sine inverter plays host a plethora of safety features such as dual GFCI outlets that will protect your appliances against overloading, short-circuiting, and under voltage.
9. Ampeak 2000W
Ampeak is yet another awesome inverter for RV that is worth considering. As its name suggests, this unit will provide you with a continuous output of 2000W and a peak wattage of 4000W.
Featuring all-around protection, you will never have to worry about the structural integrity of your appliances as this inverter offers holistic protection.
With a 4000W surge capacity leave a positive impression of a high-powered inverter that will power your RV appliances.
Besides taking pride in high power capacity, users love this unit because it has an extended range of uses. This is largely attributed to the presence of the several receptacles on the unit.
That said, the Ampeak is compatible and will power various appliances including laptops, phones, tablets, electric fans, electric lights, TV, digital cameras, freezers, microwaves, power tools, among others.
All the components of the Ampeak 2000 are housed under a durable ABS shell. If you know anything about the ABS shell, you know that it's a durable material that will protect your device against drops and bumps, and will act as the perfect all-around protection.
Safety (All-around protection)
Beyond the shell casing, Ampeak comes will all-insulated ring terminal cables, which are known for their safety, when compared to the other alligator clips with plastic cover.
Safety is further manifested by the all-around protection system that incorporates multifarious safety features. These features include:
Ease of Use (LCD display)
For ease of use, the Ampeak 200 comes with a digital display that will allow easy reading of the performance metrics and allow you to gauge on the overall performance of your power system.
10. Xantrex 81201012 Inverter
If you in search of a serious and performance-oriented modified sine wave inverter, the Xantrex is an ideal choice.
An excellent performer, Xantrex, will deliver up to 2000W in single output and takes pride in the 100-amp battery.
The Xantrex is a powerful unit that will effectively convert DC power to AC whenever you need it.
When it comes to performance, you can rest be assured it delivers what it promises as it's a quality unit manufactured by a top brand that is known for consistently delivering quality power inverters for vehicle owners.
Besides the 2 AC outlets along with a USB port, the Xantrex comes with a battery charger that works for a 100-amp single output.
Collectively, all these receptacles go towards making the Xantrex a versatile device by allowing you to connect up to 4 appliances simultaneously.
Customization of Settings
So far, this is the only inverter that allows users to customize their settings. With the unit, you can personalize the functionality of this inverter to meet your performance needs.
The Xantrex also works well for temperature compensation, thanks to the equalization stage that will allow the optimal charging of deep cycle batteries.
Power sharing in this unit will reduce the risk of the AC input breaker tripping.
In case the AC power connection is disrupted, the Xantrex will automatically transfer to inverter power and vice versa, and this will ensure that your appliances are continuously provided with a stream of energy.
Best RV Inverter Buyer Guide
Here is everything you need to know about the best RV Inverter.
Types of RV Inverters
If you are planning to shop for an RV inverter, should at the very least have some basic understanding of the different types we have.
They include:
Pure Sin Wave
Pure sine wave is the holy grail of inverters and the most popular option for inverters in the market.
What makes this model such a popular option is the fact that it works efficiently with virtually all appliances.
Again, you might want to purchase this inverter if you are looking for greater flexibility as well as the suitability of a majority of the items sold in the market today.
Expectedly, a major drawback on the pure sine wave inverters lies on their cost.
Modified sine wave inverters
Though they are a more affordable option than other types of inverters, it's known or reducing the efficiency of your equipment.
Lower efficiency means that the motor on this inverter will draw more power, and this translates to a buzzing sound.
The good news is; it works well with most of the appliances. Therefore, if noise is less o a concern to you, a modified sine inverter can be a perfect budget option.
Square Wave
The square wave yet another affordable option, which you can rely on running simple appliances that use a universal motor.
Though affordable, it's the lest common due to its limited functionality and capability.
Why Do I Need an Inverter?
The essence of an inverter cannot be discounted, more particularly to a travel trailer. If you are still wondering why you need one, here are some of the reasons:
For starters, inverters are highly portable, and this makes it convenient for use to them wherever you go, especially in the remote locations with no electricity.
Again, if you choose a pure sine wave inverter, you will have the peace of mind that your electrical appliances are always protected from any electrical fault, and more importantly, they will run at their peak efficiency and function.
To convert DC power to AC, an inverter will not require any gas or fuel to run, save for your battery's power. This is to mean operating an inverter is less of a hassle, and with it, you will not need having or carrying stored fuel in your RV.
Also, inverters generators will run far quieter than the traditional generators which tend to produce a loud noise, especially if they have a poor quality motor. With an RV inverter, you will not have to worry about disturbing people in your neighborhood while tailgating.
As you can see, there are definitely many reasons why you should have an RV inverter aboard your RV. You do not want to miss this thing, especially if you are looking to keep your appliances running, while at the same time maintaining the serenity and quietness you are looking forward to.
Top 5 Factors to Consider When Choosing an RV Inverter
If you are looking to pick the best RV inverter for your power needs, there are various factors you need to consider.
These include:
1) Power Rating
When choosing the ideal RV inverter, you should check on the power rating to ensure you pick one that will fit your appliance needs.
The ideal inverter rating should be a combined power rating of all your appliances. By knowing your total wattage, you should be able to decide which inverter is right for your energy needs.
2) Input and Output Voltage
When choosing the best inverter for RV, you should go with the one that is compatible with the voltage of the battery supplying the power.
3) Watts
We encourage our readers to be mindful of the wattage when selecting an inverter for their RV.
Wattage plays an integral role in the performance of your unit, and you should ensure that it meets crucial factors: running wattage and surge wattage.
Running wattage is the energy that your unit requires to keep your appliances running, while the surge wattage or peak wattage is the power your appliance requires to start.
4) Energy Efficiency
The rate of power consumption is also a huge determining feature when you are in search of the best inverter for RV.
Generally, pure sine wave inverters should be your starting point, as they are known to be more energy efficient.
5) Number of Outlets
The number of receptacles is something to look into, especially if you are looking forward to power multiple appliances.
Depending on the number of appliances, you can choose an inverter with a greater number of AC outlets compared to the USB ports.
However, whatever the case, we always advise our readers to choose an inverter with at least a minimum of 4 outlets (2 USB port, 2 AC outlets).
Final Words on the Best RV Inverter
Having the best RV inverter is key to a continuous stream of energy in your RV or travel trailer. However, you need to do your homework right if you are to get equipment that will fulfill your power needs. This way, you will pick one that is not only easy to use but one that will satiate your RV power needs.