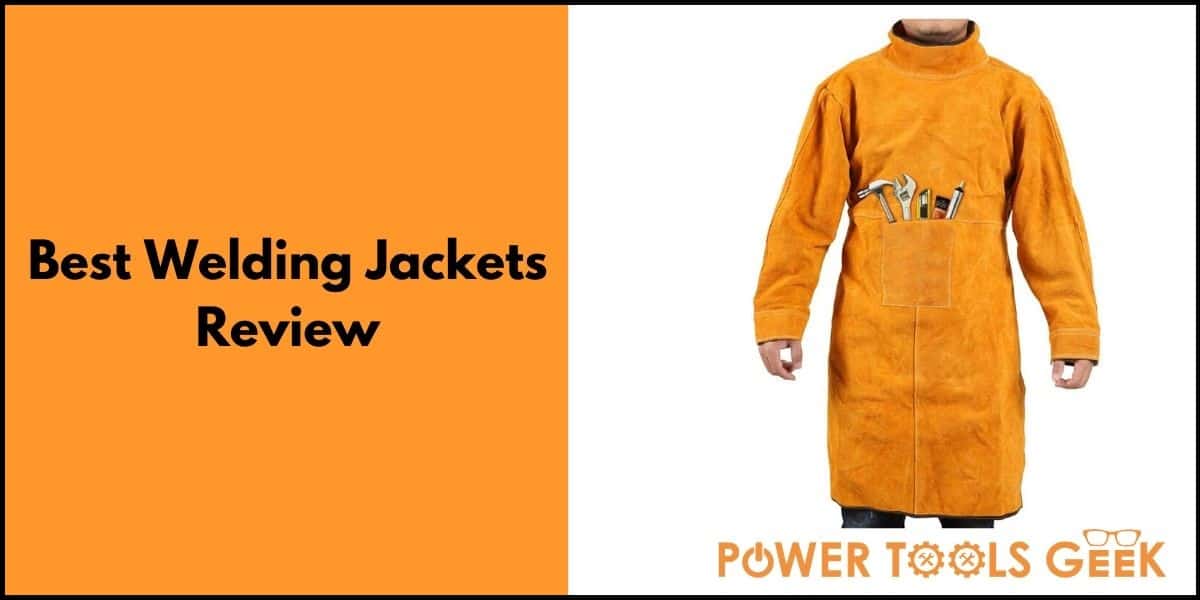 7 Best Welding Jacket Reviews – Our Top Picks for 2021
A welding jacket is equally important as a glove, mask, and boots for offering protection during welding.
In any case, a welding jacket covers the largest surface area of your body and will protect you from a whole range of potential safety threats such as spatter, slag to arcs.
After careful and thorough consideration, we have created this review to help you choose the best welding jacket in the market.
Lincoln Electric Welding Jacket K2989-M
First thing first Lincoln Electric Welding Jacket K2989-M is an offering from Lincoln, one of the undisputed brands in the welding domain.
Sporting a leather construction, this welding jacket will provide you with the ultimate protection against all the welding elements including heat, sparks, and spatter.
The leather material is further treated for heat-retardant properties, and will as such, stand up to the smattering heat emanating from the welding arc.
Finally, a comfortable unit, it runs true to size, and users were quite pleased with the overall flexibility, that helped to improve mobility and ease of use even when welding out of position.
Comparison Table and Runners Up
In the comparison table below, we shall highlight the top 7 welding jackets in the market.
Our comparison table shall provide you with a brief overview of their features as well as prices.
From here, you can compare the individual products, and see what products might fit your welding needs.
Lincoln Electric Welding Jacket K2989-M

Weight: 5.5 pounds
Torso Length: 30 – 34″
Size: M
Color: Black/Red Material: Leather

Weight: 3.2 pounds
Torso Length: 30"
Size: L
Color: Black
Material: Boarhide

BSX Flame-Resistant Welding Jacket

Weight: 1.8 pounds
Torso Length:
Size: 2X
Color: Black
Material: 9-oz Cotton


Weight: 2.85
Torso Length: 30.5"
Size: L
Color: Dark brown
Material: Cowhide leather

Weight: 3.5 pounds
Torso Length:
Size: XL
Color: Brown
Material: split leather

Miller Electric Welding Jacket

Weight: 1.3 pounds
Torso Length: 30"
Size: M
Color: Navy
Material: Cotton

Weight:
Torso Length: 35-37
Size: S-4XX
Color:Brown
Material: split cowhide leather
Top 7: Best Welding Jackets
As we had already mentioned in the introduction, welding is prone to fire and other associated dangers.
To shield you appropriately from these dangers, you need relevant protective attire.
Welding jackets are designed to protect your body and arms against the heat, sparks, and spatter emanating from welding.
The challenge, however, is to find a really protective attire, without compromising on your flexibility and ease of use.
A common mistake we see with many welders is investing in a jacket that is either too hot or too heavy, making it a challenge to wear for long periods.
Fortunately, we've come up with a list of welding jackets that will promote your safety, and at the same time, will not weigh you down.
Expectedly, we've reviewed some of the jackets from the leading brands in the industry, such as Lincoln, Miller, among others.
Enjoy
1. Lincoln Electric Welding Jacket K2989-M
Topping our list of the best welding jackets is an offering from one of the reliable and professional brands in the welding domain- Lincoln.
Typical of any Lincoln product, K2989 oozes of professionally built quality and does not skimp on functionality, either.
An ideal option for working in a high amperage environment that is out of position, Lincoln Electric jacket is a truly reliable welding jacket.
WHY IS Lincoln Electric Welding Jacket OUR #1 CHOICE?
Full Heavyweight Leather Exterior
The exterior of the jacket is constructed from a premium and heavy duty leather.
According to the manufacturer, the leather used on this jacket has been sourced from spilt cowhide material, and we love how it adorns the neck, sleeves, and the entire body of the jacket.
If the reviews are anything to go by, the material construction will provide you with adequate protection against heat, spatter, and other welding hazards.
Flame-retardant Breathable Back
Offering a complete safety solution, the back of the Lincoln Electric isn't spared, either.
The back is constructed from high-quality flame-retardant cotton material, a feature that helps to improve the overall flow of flow.
To this end, the improved airflow will keep the jacket cooler and comfortable for longer.
This way, you can move around freely and work even in a high-temperature environment without the jacket, making you feel hot.
Ergonomic Leather Sleeves
Finally, we were impressed by the leather sleeves that are optimized for the welding environment.
Boasting of heavyweight black split leather sleeves, Lincoln Electric jacket promotes ease of use, and comfort. Above all, it improves flexibility which helps increase the mobility of your arm.
2. Caiman Black Boarhide
If you're in search of a lightweight welding jacket that does not compromise on quality and performance, Caiman Black is an ideal option.
Constructed from boar hide, Caiman is an ultra-lightweight garment that will keep you cooler throughout the day.
In particular, it's a handy choice for the summer periods, when you want to stay cool, light while at the same time protected.
Despite its lightness, however, it's an extremely durable garment and will last for a long time.
Caiman boasts of a solid boar hide construction.
Unlike a majority of other materials, this pigskin is highly resistive to heat and offers fireproof properties.
It means that users can comfortably work in extreme temperature conditions without having to worry about getting burnt.
An abrasion and heat-resistant material, Caiman will stand up to the ruggedness of the welding environment, and this makes it particularly in conditions that involve a lot of heat and flammable agents.
An ultra-light jacket, we love that Caiman did not weigh us down when welding.
The quality pigskin is lightweight, and according to the manufacturer, it makes their product 15% lighter than cowhide jackets.
Besides durability and lightness, boar hide has lots of elasticity, which promotes easy movement and offers lots of flexibility.
When welding, for instance, we were able to make precise welds even on the more tight spots and even out of position.
Both the back and underarm of Caiman come with vents that help to add more comfort and improve on airflow.
Generally, the breathability on this jacket is excellent and combined with the fact that it's ultra-lightweight, it will offer users a pleasing welding experience.
Caiman is as sturdy as it can get; all the stress points on this jacket are double-stitched with 100% Kevlar, and the stitching allows the jacket to handle everyday wear and tear.
This jacket will withstand the extreme pressures you put it on, letting you put on your job.
3. BSX Flame-Resistant Welding Jacket – Black
BSX Jacket is a product of Revco, and it boasts of a high quality built alongside unique engineering.
A sturdy and durable jacket, it's reassuringly safe, and we had no worries about compromising our safety integrity.
Manufactured from 9-oz cotton, BSX will secure your protection and keep you safe throughout the welding experience.
WHY SHOULD YOU CONSIDER BUYING BSX FR WELDING JACKET?
Aesthetics might be probably the last thing you would want to look in a welding jacket, but we have to prop Revco for crafting this beautiful masterpiece.
Candy to the eye, this black jacket is designed with red trims, alongside flames logo on the sleeve, and will leave you looking classy when working.
In addition, it's a nice complement to your workshop.
The manufacturer used 9-oz cotton construction that secures extra protection and will keep you safe from the potential welding safety threats.
However, some of the users were concerned with the comfort of the material, especially when used alongside other clothes.
At the bare minimum, this welding jacket requires users to wear something light, such as a welding shirt, and this way, you will feel incredible comfort since the sizes are spot on.
The cotton used on this jacket is further treated for flame resistance, and so, we were impressed that it offered excellent protection against the sparks as well as heat.
Naturally, cotton is breathable, and with this garment, you don't have to worry about heat buildup.
In any case, we were pleased that we didn't have to worry about sweating profusely, a major concern that we had with the leather jackets.
To this end, the BSX makes an ideal option for those looking to work when the hot sun is out; this jacket will offer adequate safety and, at the same time, provide a comfortable working solution for the hot summers as well.
Sporting an adjustable waist strap and cuffs, BSX runs true to size and is easy to it.
We loved the adjustability aspect as it significantly aided in easing up the movement of your upper body, and at the same time, safely protecting your body from burns.
Providing a total safety solution, BSX features a stand-up color designed from cotton fabric.
The cotton fabric is quite forgiving even in the smelting temperatures and will protect your neck against the debris, sparks, and splatter.
4. Waylander Welding Jacket
Waylander Welding Jacket is one of the classic options on our list, and it boasts of a combination of premium materials, which include cowhide leather, flame retardant cotton, and flame-resistant Kevlar for stitching.
If lightness and comfort are a priority to you, then look no further than this quality product.
We love how the shoulders and sleeves are satin-lined, allowing for an easy and comfortable fit.
And if the reviews are anything to go by, users of Waylander Welding Jacket were generally pleased with the versatility and protection offered by this jacket.
WHY IS THE Waylander Welding Jacket A TOP PICK?
The leather construction on this welding jacket offers excellent protection against the external elements, including heat, spatter, and sparks.
A highly durable welding jacket, users we impressed with the overall protection against any potential safety hazards.
Besides leather, Waylander features cotton back, and this offers breathability and mobility. Given that the welding temperatures can soar to extreme temperatures, the cotton construction will ensure that there's the free flow of air in your body.
Furthermore, contrary to a majority of the leather jackets, this unit isn't heated absorbent, and though some users claimed it still felt a bit hot under the collar, it's much of a concern as it's still bearable.
And, thanks to the material combination, the weight of this jacket is drastically reduced; a fairly lightweight jacket, Waylander will not weigh you down and lets you achieve your desired comfort, even when working out of position.
In any case, some of the welders were quite happy with the weight and even went to claim that it can even be used comfortably in other tasks such as metal, carpentry, woodworking, and gardening.
This elegant jacket is designed with comfort in mind.
The cotton construction on the back and front makes the jacket quite flexible, which helps to improve the mobility of the users.
Secondly, when working with this jacket, you don't have to leave your essential items far from you because it comes with a roomy interior pocket that will not only store but also protect your items from extreme heat.
The peak of the comfort functionality is, however, the quality satin that lines on the interior of the jacket. Generally, putting on leather is challenging because it keeps on sticking. The presence of satin lining, however, makes it a cinch to wear the jacket.
Furthermore, the satin lining lets users wear the jacket comfortably without needing long-sleeved clothing in the inside.
For the ultimate durability and strength, we love how the manufacturer has included strong buttons alongside Kevlar stitching.
Combined, these features will not only stand against the extreme temperatures but will guarantee the ultimate ruggedness and strength of this jacket.
5. Gotega Welding Jacket
Gotega is more of an apron than a true jacket; nevertheless, it's a fantastic protective masterpiece that you should consider for your welding projects.
Sporting high-quality split leather, Gotega is impressively functional and will stand up against the flames, and natural wear.
What we like most about this welding jacket is it easily covers from the knee to the upper portion of the neck, and it comes with long thick arm for arm protection.
WHY DID WE INCLUDE Gotega Welding Jacket IN THIS REVIEW?
Gotega takes a novel "less is more" approach- it's a hybrid between a jacket and an apron, meaning it will provide you with full protection starting from the front, down to the mid-thigh or knees.
The novel design is further manifested through the completely open back- the back is held in place by two easy straps alongside Velcro.
The absence of material on the back translates to greater breathability due to the improved airflow. Contrary to what you would expect with an apron, this unit is highly breathable, and users don't have to struggle with extreme sweating or uncomfortable temperatures.
More importantly, it means that Gotega comes at nearly half the price of the standard jackets because of its users nearly half of the material (in theory).
On our gripe with the design, construction was the fitting. Many of the users complained that the sleeves were a bit baggy. Further, the straps, which are designed easily to go on, are a tad flimsy and prone to wearing or bending, especially around the weak link that holds the jacket.
The cowhide material is hard to beat, and it has everything that you want to for a safe welding experience.
A thick, durable, splatter-resistant, and fire retardant, the material construction of this unit will provide you with the ultimate safety solution against all the welding hazards.
The fire-retardant feature, for instance, is quite handy because it prevents heat and sparks generated from the welding arc from accessing you.
A highly versatile welding jacket, Gotega is a multifunctional garment that will go beyond welder protection.
This safety apron can similarly be used for a variety of other applications such as carpentry, blacksmith, gardening, and even as a farrier apron.
6. Miller Electric Welding Jacket
Sixth on our list is a product from Miller.
Honestly speaking, we were not impressed with this jacket despite coming from a reliable brand.
Nonetheless, it's not a surprise considering it's a budget option and at the low-tier levels.
However, what really impressed us was the lightweight design and the comfortable feel.
WHAT MAKES THIS Miller Electric Welding Jacket A TOP PICK?
Miller Electric Welding jacket is constructed from a combination of cotton and nylon.
While this combination is not reassuring in terms of protection such as leather jackets, it's quite comfortable to wear.
In particular, it's a lightweight option and feels generally well made.
Though it's listed as flame resistant, we would recommend using it on jobs that have a risk of fire. Ideally, it's suited for lightweight projects.
Offering a complete safety solution, Miller Electric jacket covers your arms as well as the torso.
The stand-up collar is yet another wonderful safety feature that offers total neck protection.
The cotton and nylon construction feels great and hot weather, and we liked the fact that this jacket did not retain heat, and therefore, users did not sweat as much as they would have when wearing a leather jacket.
Like a majority of the welding jackets on this list, Miller Electric feels supremely durable, and this can be attributed to the stitching that feels quite solid.
7. QeeLink Leather Welding
QeeLink Leather Welding is a heavy duty welding jacket constructed from original cowhide leather, and it offers superior protection for the user.
A flame-resistant and heat resistant jacket, it's an ideal option for users working on applications that generate a lot of heat, such as welding.
Aside from safety protection, we had to include this jacket on this list because of its versatility; it a highly multi-purpose jacket that can be used for a variety of applications.
WHY IS THIS QeeLink Leather Welding Jacket A TOP PICK?
First, this jacket comes with a brown color that gives the jacket an aggressive look.
Sporting a cowhide leather construction, QeeLink Leather Welding is not only durable, but it similarly offers excellent protection, typical of what other leather jackets offer.
The genuine leather similarly grants this jacket impressive durability, and it's designed to last for a long time.
The leather on this jacket is cured to provide fire-resistant capabilities, and this makes it quite an ideal option for heavy duty projects.
We were impressed at how this jacket easily handled the welding conditions, and users did not complain about the safety integrity of the jacket.
Aside from protecting the body, QeeLink Leather Welding comes with an adjustable collar that will provide neck protection.
Full-body protection is further bolstered by the long-sleeves that protects the arms as well as the torso.
Though it's not a zip-up leather jacket, it comes with heavy duty buttons that are super-durable and won't pop-out anytime soon.
To bolster the protection and durability of the QeeLink Leather Welding, we love the sewing that incorporated high-quality US Kevlar thread.
This stitching, done on the interior as well as the exterior of this jacket, is artistically designed to perfection and will guarantee unmatched durability.
Versatility at its best, QeeLink Leather Welding can be used for more than just welding.
It's a versatile unit that is perfectly suited for use in other applications and professions, such as manufacturing, automotive, gardening, and blacksmithing.
The only grip that we had withQeeLink Leather Welding is heat retention. Unlike the cotton –made jackets, the leather construction doesn't promote breathability of airflow, and as such, it might not be ideal for hot climates or in hot working conditions.
After use, many of the welders claim that QeeLink Leather Welding becomes sweltering.
How to Buy the Best Welding Jacket?
The market is filled with a variety of welding jackets, and finding one that suits your needs can be quite a challenge.
It's for this reason we've created this comprehensive buying guide that will highlight some of the essential components or rather factors that you need to consider when making your next purchase.
Shell Material
The shell material refers to the outside covering of your jacket or apron.
It's the part that comes into contact with the elements, including splatter, flux heat, sparks, flames, and radiation caused by welding.
Here is a breakdown of some of the popular materials worth considering for the shell material;
Leather: This is the most popular material and is constructed by tanning an animal's skin or hide. The popularity of this material is as a result of durability and consistent exhibition of thermal as well as burn resistance.
In most cases, leather jackets are manifested in cowhide, pi, or bar skin.
Kevlar: In most cases, Kevlar is used for stitching the jacket, and it's a fantastic option for preventing burns thanks to its inherently fire-resistant nature. It also resists wear and tear.
Denim: This shell material is not commonly associated with welding jackets. However, it quite thick, rugged, and can offer protection, especially in the low-intensity operation. However, it's not fire-resistant.
Carbon fiber: This material is known for its high-temperature utility, and this is particularly true when it combined with graphite. A major gripe with this material is that it requires enhanced manufacturing that renders the material a tad stiff.
Rayon: Rayon, which is in most cases used in combination with aramids, provides a tight-fitting design that particularly excels are resisting splatter.
The shell material is not only comfortable, but it's similarly durable and heat resistant, too.
Lining
The lining is yet another crucial aspect of the material construction of your welding jacket.
Lining, unlike the shell, comes into contact with your body, and it plays a crucial role in determining the overall comfort.
Here are some of the popular lining materials:
Wool: A flame-resistant material; this natural fiber is naturally fireproof and cannot ignite.
Most of the manufacturers usually improve the performance and functionality of this material through chemical processes and reinforcing the resistance through weaving the fibers tightly during manufacturing.
Polyester/Nylon: Like wool, nylon is considered fire-resistant and will resist ignition at much higher temperatures compared to the natural fibers.
Cotton: Though cotton is naturally flammable, manufactures treat this material to increase its resistance. This material is both flexible and lightweight and is a preferred option because of the breathability aspect, which promotes a comfortable experience.
Flame-Resistance
Though other features are quite negotiable, flame-resistance is a must-feature for any welding jacket.
When looking for a welding jacket, you want to sure that the material used in construction is flame-retardant or heat resistant.
Comfort and Durability
Different materials usually provide varying levels of comfort and durability.
Leather, for instance, is not as comfortable as cotton, but it offers far more superior resistance and protection.
Leather is also more durable and can withstand a lot of abuse.
However, you can find a jacket that strikes a balance between comfort and durability; for instance, you can choose a welding jacket with a leather shell but with a cotton lining.
The leather-cotton combination is an incredible choice that will provide superior protection, while at the same time offering flexibility, ease of use, and comfort.
Size and Fit
Like any other garment, welding jackets usually come in a variety of sizes, and most of the time, finding your right size is easy since you only need to look at the size you typically wear.
Color
Color is more than aesthetics, but yellow and brown are more common because of their visibility even behind a welding mask.
Solid black, on the other hand, might be a tad challenging to notice, but it depends on the type of welding jackets you're wearing.
Price
Prices of welding jackets greatly vary based on several factors, including sizes, materials, and additional features.
If you're just starting, looking to get your feet wet with an apprenticeship, it's perfectly fine to go for a low-cost welding jacket.
However, if you're a seasoned welder looking for specific attributes and performance, you will want to choose a high-end and quality welder that will address your specific needs.
Conclusion
Safety in welding is a primary concern among welders, and they will to great lengths to see their safety is not compromised.
Welding jackets are a superb way to promote your safety and, at the same time improve our overall welding performance.
So far, we have gone through the best seven welding jackets in the market, and here you can choose a garment that will fit your needs.
And as you can see, these garments are quite diversified and will cater to the need of both the seasoned as well as the armature welders.