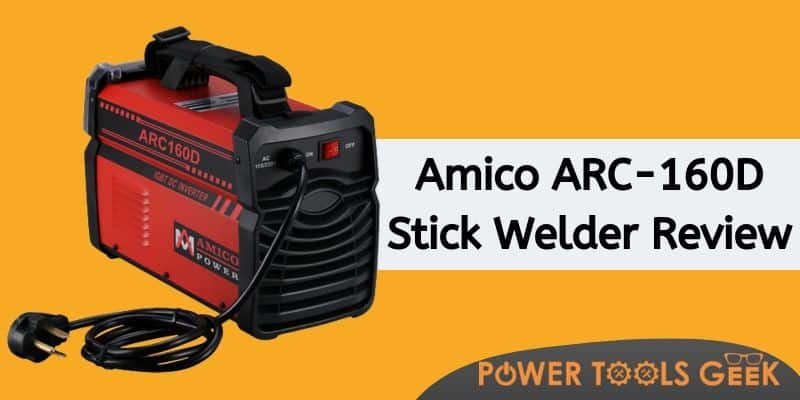 Amico ARC-160D Stick Welder Review
The Amico is a relatively new model that was launched in 2016.
A low-priced welder, Amico ARC-160D is a powerful welder and is capable of working on both the hard and dense surface.
Featuring 115 and 230-volt input, this dual voltage welder is highly versatile and can handle workpieces up to ¼-inch thick.
However, Amico ARC is a DC-only machine. It offers an output of 160 amps with a 60% duty cycle. The DC-only feature helps to keep the price relatively low.
Key Features and Benefits of Amico ARC-160D Stick
Amico can only power through DC.
While this is a letdown, it's not much of a big deal. After all, many people use the DC output for welding. It's only when you need an AC output that the DC-only compatibility is perceived as a limitation.
The single voltage compatibility is not a surprise, especially when owing to the price of this unit. There're few if any of the budget models that can get close, let alone match the performance and value of the Amico.
Amico s​​tick welder works like a monster on DC. This welder is proficient at what it does, and it will guarantee results.
Amico is a dual-voltage welder.
This mean s it can operate on two voltage types (115 and 230V)
The benefit of having a dual voltage welder is that it provides versatility regarding use.
For instance, the 115V option will allow you to plug this welder on your standard power inlet.
The 230V, on the other hand, will provide you with more power, allowing you to work on the thick metals. According to the manufacturer, this unit is capable of welding metals as thick as ¼ inch.
Duty cycle refers to the period that a welder can work before it cools down.
The duty cycle is measured in sessions of 10 minutes and is expressed in a percentage.
Amico will provide you with a generous duty cycle of 60% at the full 160A.
What this means is that it will allow you to work on metal for six minutes, then rest for four minutes.
Six minutes is relatively a high figure and is commonly associated with the industrial-grade welders.
Inverter welders are not only smaller than regular welder but they can weld as twice the capacity of a similarly spec'd welder.
Some of the inherent benefits of inverter design include smaller size, stability, and efficiency
Though they cost more upfront, the arc stability, and effectiveness are more reasons why you should opt for inverter generators.
IGBT technology is yet another incredible feature of this unit.
The IGBT technology works in tandem with the inverter design to render Amoco an energy-efficient welder.
This technology conserves the energy on this unit and drastically reduces the amount that you would have paid for the electricity bill.
Heat is a major concern with welders.
With Amico, however, you have a unit with heat adjustability features.
The heat adjustability function will allow you to have control of the heat coming to the arc current.
Having complete control of the heat coming to the arc current will enhance the staring function and enhance the overall performance of this unit.
The intelligent fan control, in particular, is quite handy when it comes to welding. This unit will automatically cool the welder components once they get too hot.
Additionally, the fan reduces the airborne contaminants that are pulled through the power source, and this will help to keep the welder working optimally.
Weight 16 pounds and with a modest dimension of 16.6 x 7.5 x 11.8 inches, the Amico 160 is one of the compact and lightweight welders we've in the market.
What you're looking at the Amico is a feather-light and extremely portable unit.
The lightness and portability of this unit go further to underline why Amico is suitable for the outdoors. This unit is easy to store, easy to carry, and will it in your RV or even the trunk of your car.
Amico is a beginner-friendly unit, thanks to the intuitive and ea​​sy to use design.
For starters, this unit features a neat LED display.
The visibility of the LED display allows for easy operation of the welder.
More importantly, it eliminates the guesswork from your welding operation. Like a smart welder, the LED flashes in the faulty section, letting you know the exact location of an issue.
Voltage protection is another highlight worth mentioning.
T keep the welder safe and protect you from electrocution, Amico has both over-voltage and under-voltage protection.
The voltage protection is an incredible attribute as it preserves the lifespan of this unit.
Safety on Amico is further underlined by an ETL listing. The ETL listing is a safety standard that is acceptable in America.
Can be Used Right Out of the Box
Bonus features and goodies are always welcome. And Amico has done a great job at providing users with a plethora of accessories on this unit.
Some of the handy accessories on this unit include;
With all the above accessories, you can start using the welder as soon as it's delivered.
Conclusion
Amico might not be a well-recognized brand, but they've built their name for producing quality products.
A benefit of buying a product from such an underestimated brand is that you'll get an incredible value for your money.
And the Amico ARC=160 is a testimony to that.