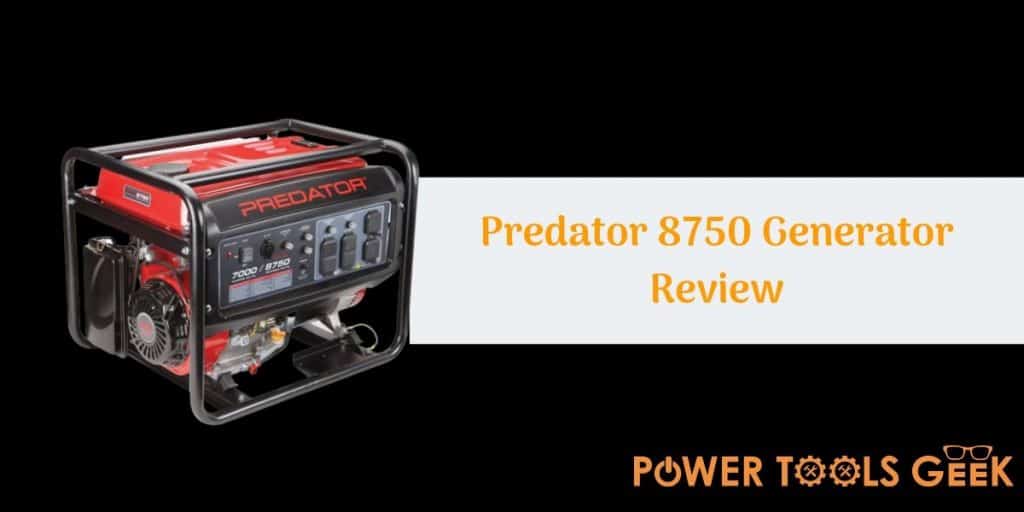 Predator 8750 Portable Generator Review
The Predator line of generators, manufactured by Harbor Freight, seems to be the best deal out there when it comes to power and value.
The Predator 8750, in particular, is one powerful beast that will provide you with consistent stream of power.
Sporting a feisty 420cc engine and an air-cooled 13HP engine, this model is designed for the individuals with high power requirements.
And in the section below, we shall explore everything you need to know about this generator.
Features and Benefits of the Predator Generator 8750
If space is of the essence to you, then the Predator 8750 would be an ideal fit.
Unlike other power generators within its class, you would expect the Predator to be quite bulky, but in reality, its size is not defined by the amount of power it generates.
Beyond size, the Predator is quite durable, thanks to the steel frames that run across the generator, keeping all its components safe from external factors. Moreover, all the materials used in the construction of this generator are high-grade, and if taken care of, the Predator will serve you for a long time to come.
On the downside, we were concerned with the weight of this unit. Though the generator comes with a wheel kit included alongside an adjustable handle for easy carrying, the 220 pounds of this unit is by no means easy to lift or push.
Price-wise, the Predator is a tad costly, but the performance you get is more than what you would expect.
Under the hood, this generator is powered by a 420cc 13HP OHV-air cooled engine. This drivetrain allows the Predator to generate surge power of 8750W and a running output of 7000W.
If you know anything about generator power, you understand that the Predator is a beast that is capable of powering all of your home appliances. Whether you require powering your well pump or electric heaters, this generator is up to the task.
Beyond the normal household tasks, the Predator 8750 can as well as be used for other tasks such as in farm applications, as a power backup, at job sites or even or recreational purposes.
Given the Predator 8750 is such powerful equipment and can handle a majority of your power requirements; I know many would be interested to know about the fuel efficiency of this unit.
Gladly, the Predator has incredible fuel efficiency.
Running on 87+ unleaded gasoline, this unit does not consume a lot of fuel. With a generous capacity of 6.6 gallons, the Predator can run for a whopping 122 hours 50% capacity.
With such an awesome runtime, it would not be wrong if we classified the Predator among the top generator brands with the best fuel efficiency in the industry. With this generator, it means you can power a full day event without worrying running out of power.
Noisy generators are a nuisance, right?
But that's the price you pay for getting a generator? Wrong.
See, many of us have been accustomed to having noisy generators that we longer care about the noise factor.
Gladly, there're a plethora of generators that will operate without disturbance, and the Predator 8750 is one of them.
Sure, at 76 decibels, the Predator is by no means the quietest generator as we've seen units with a much lower noise rating.
However, when you compare the Predator with its closest rivals, and those with similar power output, you'll realize that the Predator is by far a quiet unit.
For a powerful generator such as the Predator 8750, you might get tempted to thinking it has a complex user interface.
However, this unit features a simple and intuitive control panel, and you will not experience any difficulties to operate it.
What we liked most about this unit is that everything on the control panel is clearly indicated, and if anything is missing, you simply pull the user manual and check.
When it comes to starting the generator, the process is quite friendly. For starters, the start-up time is quite short. And to start the unit, you'll simply need to grab the ripcord and steadily pull it.
Alternatively, if pulling is not your thing, there is an option of an electric start though it requires a battery.
Either way, the start-up process on this unit is quite simple, and everyone, including seniors, can handle the Predator.
The beauty of Predator generators lies on their versatility, and the Predator 8750 is no different.
For starters, the Predator 8750 is ideal for use for several functions including powering your household, powering to job tools to doubling up as an emergency generator.
In the same breath, the Predator 8750 comes with multiple receptacles totaling to 4, and this includes two 240V plugs. What this means is that the Predator will allow you to connect a variety of appliances simultaneously.
So, whether you're planning to go for recreation, camping or any other project, it's nice to know that the Predator 8750 will help you maintain a continuous stream of electricity to all your devices.
An essential safety feature, the low oil shutdown will automatically shut down the Predator when it runs low on fuel.
This will prevent any damage that might happen to the engine when it's running on no fuel.
Now, while the low oil shutdown is a standard feature among many generators, we can attest to the fact that it's still a vital safety component.
The Predator has everything desirable in a generator.
However, its bulkiness is something we were concerned about, more so regarding its weight.
Otherwise, the Predator is an awesome unit that will provide you with the necessary power for your entire household.