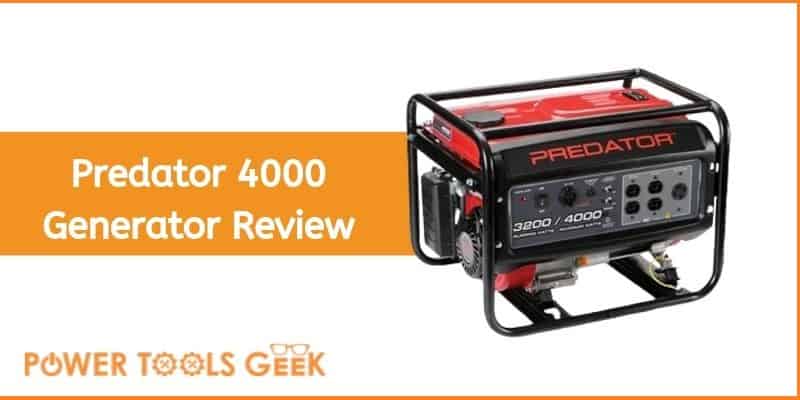 Predator 4000 Generator Review
Ever heard them saying 'They don't make e'm like they used to?"
The Predator seems to be an exception to the above statement. The Predator 4000, in particular, part of the Predator line of generators is solidly built, and strictly speaking in terms of power vs. price, the generator is one of the best deals out there.
The Predator 4000 offers a unique ingenuity that allows it to be used both for home use a well as accommodate your family's power needs on the outdoors.
To help you understand more about this unit, we have prepared a comprehensive Predator 4000 review that seeks to explore and highlight everything about Predator 4000.
A quick Overview of Predator 4000
The Predator 4000 serves as the least powered and smallest electric motor in the Predator lineup and is suited for domestic and home applications such as lighting, power electronics, and small appliances.
Although the Predator 4000 is specially designed for home and recreational use, it has the qualities of commercial generators and will keep all your household appliances working.
In a nutshell, the Predator 4000 is an awesome piece of power equipment that not only boasts of a variety of performance features but should also come in handy in case of emergencies.
This superior unit is powered by a robust 212cc, 6.5 HP Predator engine. This engineis further air cooled for optimal performance, and are indeed reliable and will not skimp on performance.
Underlining its performance is the EPA III certification that will guarantee delivery of lots of power when and where you need it.
With such a generator, this unit is suitable for a variety of tasks including recreation, use for onsite jobs, general household use, heating & cooling, and for emergency purposes.
What a better way of preventing catastrophic loss if ever the grid goes down other than having a Predator 4000 by your side?
This unit, with a running wattage of 3200 and peak/surge wattage of 4000, is reliable in case of emergencies or when it comes to getting critical back up during power outages.
With the Predator 4000 by your side, you can easily get lighting, heating or cooling as you wait for electricity in your area to be restored.
Ad depending on how big your cooking appliances might be; you can use the Predator 4000 to power them. Again, depending on the wattage, you can even power your window type air conditioner.
Generally, though the Predator 4000 will not power your centralized air conditioning system, it can power one large appliance or one large power tools alongside your small home appliances.
The Predator 4000 comes with a massive 4-gallon tank that will help you keep running for hours. It might not be the biggest we have come across, but it's far voluminous than that of its predecessors the Predator 2000 & Predator 3400, as well as that of its rivals within its class.
Volume aside, I love the fact that the tank is top mounted and this allows for easy filling whenever you want, not to mention that unlike the other units with side tanks, it will avoid oil spillage and will help in preventing accidents.
Additionally, the fuel tank features a large cap with a chain allowing you to refuel properly and never lose/misplace the cap.
Another awesome feature about this tank is that it comes with a debris strainer. Given that gasoline can at times become polluted with physical objects, the strainer will prevent you from putting foreign material accidentally into your generator.
While still at fuel, it would be worth mentioning that the Predator 4000 runs on gasoline, and has excellent fuel efficiency.
When full, this unit will provide you with 10 hours of run time at 50% load, which to me is a decent figure and will keep you running throughout the night.
The control panel of any unit is as important as its performance.
This is because it's where you will operate the generator and see whether it needs any maintenance.
Now, unlike most of the generators with control strewn all over the place, the Predator 4000 has a control panel decentralized in one location, at the front for easy use.
Furthermore, the access keys are conveniently placed together for easy access and use.
On the control panel, you will find the switch to turn the unit on/off, receptacles as well as the low oil warning lights.
We were extremely impressed with the built quality on the Predator 4000.
The presence of a heavy-duty steel roll cage will allow the Predator 4000 to withstand the pressure while protecting the engine against the external elements that may cause damage or affects its functioning.
In particular, you will love the welding of the components, and as expected the generator will not wobble around when running, and this is essential to prevent the parts from loosening or breaking down over time.
Conclusion
Sure, the Predator 4000 does not match the power offered by Honda or Yamaha, but it's worth buying for its durability, ease of operation, portability, and power.
Featuring a heavy-duty roll cage, it makes the Predator 4000 a unit to rely as long as the durability is concerned.