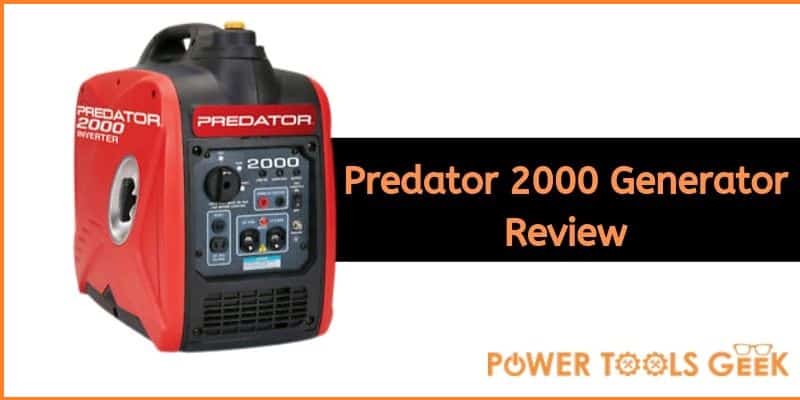 Predator 2000 Generator Review: Is It Worth The Money?
If you are an outdoor aficionado as I am, you understand the importance of having a generator by your side during camping or RVing. But beyond camping, generators are also ideal during power outages in our homes.
If you have been searching for a generator for your power needs, you probably must have come across Predator 2000 generator. It's among the best unit you can find in the market.
But is the Predator 2000 right for you?
Read on our comprehensive Predator 2000. Here we shall explore everything you need to know about this generator and see whether it's right for you.
About Predator 2000
For a long time, the Predator series has built a solid rap, thanks to its durability, and reliability, and this new model carries on with this legacy.
As you would expect, the Predator 2000 did inherit some of its predecessor traits such as durability and superior performance. However, this new model has gone a step further owing to its revolutionized fuel efficacy and convenient portability, and this has placed the Predator 2000, a rung ahead of its closest predecessor.
Ask any generator expert, and they will tell you the generator is one of the crucial components of any generator.
The Predator 2000 features a robust 79.7 cc air cooled engine. This engine will supply you with lots of power for a variety of your projects as well as maintain a longer life.
You are more likely to fall for this generator because its engine will provide just the right amount of power you need to cover all your power needs during the camping or in case of a power outage.
The engine of the Predator 2000 comes with the conventional pull system, meaning to start the unit, you will simply need to pull the starter, and it will start supplying power. However, unlike the old-fashioned generators, the pull system on the Predator 2000 will start the unit with the first pull.
Like the name suggest, the Predator 2000 is rated to provide 1600 running watts as well as 2000 surge/peak watts.
Sure, the Predator wattage is the best we have seen out there, but what you must understand that this power output is more than enough to cater for your emergency needs as well as power the most basic appliances.
What can I do with 2000 watts?
With this unit, you can power a variety of household appliances ranging from several light bulbs, LED TVs, fans, clothes dryers to your cappuccino maker. Additionally, the unit is powerful enough to run your dishwasher, freezer, electric kettle, microwave as well as one window type air conditioner.
And if you have a job site, the Predator 2000 can be used for powering a variety of machines including belt sanders, disk sanders, and the cordless drills. And depending on their wattage, this unit can also be used to power grills as well as freezers.
As you can see, the powering options on the Predator 2000 are limitless. Don't let the modest power output trick you into thinking the Predator 2000 is an underperformer. This generator is a unit that will fulfill all your powering needs.
The 2000 w power output will only go so far in powering your devices. If you feel that you need more power for your power-guzzlers machines, you will be pleased to know that the Predator 2000 will allow you to connect an additional unit by your side to double up the power output.
Using the Parallel Capability, you can now achieve a combined wattage of up to 4000 peak watts, which to me, can handle any task that you have.
Fuel efficiency is a major feature to consider, especially if you are concerned with the cost of fuel and want to extend the run time.
The Predator 2000 is an efficient unit that will get you going for long. For starters, this generator runs on gasoline. Now, if you anything about generator fuels, you are aware that gasoline is the cheapest of all, easy to use and readily available.
The biggest drawback of gasoline is that it does not have a long shelf life, and if you are looking to store it for a long period in your Predator 2000, ensure that you add fuel stabilizers to prevent it from condensing.
When it comes to the actual fuel efficacy, the Predator 2000 will provide you with a run time of 6.5 hours on a full tank at 50% load.
Another awesome feature about this generator is that it's an inverter-type generator.
But why should I care?
Well, unlike your conventional generator, inverter generator, like their name suggest using avant-garde circuitry to convert AC power to DC then to AC again.
By doing so, this unit can rectify the spikes, and smoothen the electrical energy from the generator. Thus, by stabilizing and ensuring a continuous flow of electricity, you can comfortably power your sensitive appliances such as laptops, mobile phones, PC, to LED TVs, without risking short-circuiting.
Nothing is more exasperating than dealing with noise issues when you are trying to have some me moment when camping or reading a novel at home.
Fortunately, with the Predator 2000, noise is a thing of the past, thanks to the shuttle control, mufflers and a closed casing, all that work collectively to dampen the noise.
With the Predator, you get a modest noise level 0f 61 decibels, which is by no means an acceptable range.
Traditionally, Predator generator units come with a bulky and hefty design. However, the Predator 2000 is unlike those models, but instead, this unit comes with a highly portable design
Weighing at only 48 pounds and featuring regular petrol can size, the Predator 2000 allows you to carry with it whenever you go.
Portability aside, the Predator 200o is extremely durable and will stand up to the extremes of the weather.
All components in this generator are made from high-quality material, and the unit is housed in an extremely durable casing that can take a beating and still be in one piece.
Also, it's worth to mention that the unit is professionally assembled and this ensures the longevity of the generator.
The Predator 2000 comes with a plethora of safety features such as the overload protection that will keep your generator and devices safe from getting damaged. The automatic shutoff feature will protect your engine and ensure your unit does not run when on low oil levels.
For easy use, the unit has the control panel conveniently positioned on the front side. And finally, the generator features multiple volt receptacles including two 120 AC volt and a DC receptacle which is a 12 Volt two pin outlet.
Conclusion
The Predator 2000 is an awesome unit with plenty of awesome features. I love the reliable performance of this unit as well as the fuel efficiency.
Though it has a small tank, it's highly portable as well as durable.