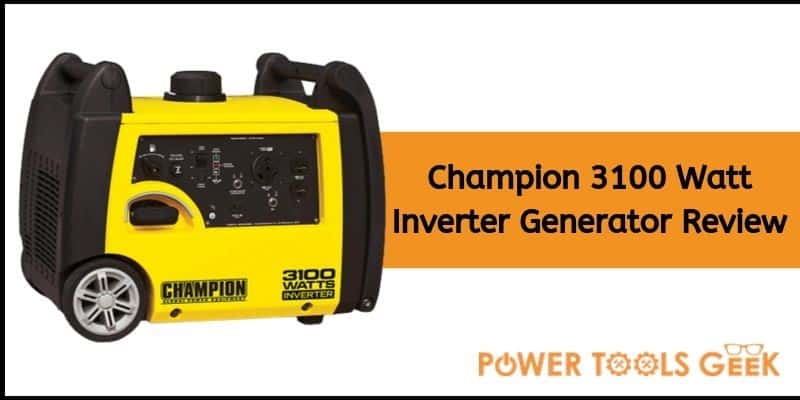 Champion 3100 Watt Inverter Generator Review
Having a dependable source of power away from home is no longer considered a luxury but a necessity. This is particularly true if you are going out for camping or tailgating, away from the convenience of the energy from the power grid.
Having a generator as an alternative means of energy is a good way to keep you powered. And today, we shall look at one of the popular generators in the market, the Champion 3100.
The Champion 31000 is a reliable, powerful, and remarkably quiet generator. Though its capabilities are tailored for outdoor life including camping, RVing, tailgating and the like, it will equally power your entire household.
In the Champion 3100 review below, we shall look at everything you need to know about this unit.
Design Built/ Ease of Use
Sporting a cuboidal design, the Champion 31000 is compact and sturdily built for optimal performance.
Featuring, a built-in foldable handle, alongside baggage-style wheel, you will hardly need to carry this unit by hand, and this improvement makes it easy to maneuver the unit around.
And when it comes to the ease of use, you will love the straightforward and easy to use control panel.
Though it does not feature an electric start, it comes with a standard manual recoil start mechanism that is easy to use, and more importantly, keeps the maintenance requirements at a minimum as well as weight.
Under the hood, Champion 3100 is powered by a robust 171cc OHV four-stroke engine. This powerhouse not only runs reliably but dissipates heat efficiently, allowing for both long life as well as optimal fuel consumption.
With a running wattage of 2800W and surged watts of 3100, the Champion 3100 can power a majority of the household tools and devices.
Again, with this unit, you should comfortably keep your necessities such as refrigerator running, along with your sump pump. And if you do not have a lot of power demand like me, you can as well have some energy left for powering your lights and running a window conditioner periodically.
While the Champion 3100 will not handle your 40-gallon water heater, we can all agree that the Champion is an awesome unit with enough power for the light to moderate appliances.
While at it, you would want to know how steady the output on this device is. Traditionally, most of the generators, though with a high wattage rating, often experience lots of dip in power output. With the Champion, however, you will realize that it's pretty steady and will run all along without having any shut-offs even when you push it to the limits.
A major highlight of the Champion 31000 is that it's an inverter generator.
Why does this matter?
It matters a lot, especially if you are going to use your generator for powering sensitive electronics. Se, unlike the conventional generators, inverter generator, using an advanced circuitry, will convert the DC power to AC.
Remember that a majority of the electrical devices use AC power, and hence, the inverter generator is a more inspired choice for powering the power sensitive equipment.
The Champion will smoothen the spikes and surges of the power output, thus avoiding the risk of "frying" your appliances.
If you are wondering how good the Champion is at smoothening the output, you will be glad to know that it has an output of less than 3% Total Harmonic Distortion, the lowest you can get with an inverter generator.
Therefore, if you are considering powering sensitive medical equipment, phones, tablets, or laptops, the Champion 31000 is an ideal choice.
Noise is a major consideration to make, especially if you will be using your unit in a public place as you will not want to disturb others.
The Champion is rated at 58 decibels, which is relatively quiet and makes the unit an ideal option for a variety of uses including RVing, tailgating, or a backup power for your home.
For reference, the noise rating on this model is the same loudness you would get as a normal conversation.
And if you extend your camper's cord to the generator, and turn the exhaust pipe away from your RV, you'll barely hear the slightest hum while inside your trailer. Outside, the noise level is not a lot, and it will allow you to carry on a normal conversation, provided you are not right next to the Champion.
The Champion 3100 features a 1.59-gallon fuel tank and can provide a generous run time of 8 hours when running on a ¼ load.
It's good to know that with the Champion, you get a unit that will provide you with sufficient power to carry you throughout the night or take you through a full day event.
The engine on the Champion is run by E10 gasoline, with no more than 10% Ethanol. Now, it's important to remember that when gasoline and ethanol are combined, they tend to separate over time, and the gravity fed fuel can leave your generator's carburetor watery and gummy.
For this reason, it's recommended that you have a good fuel stabilizer to maintain the pristine condition, especially during periods of inactivity. We also recommend that you make a habit of running your generator every few weeks and run it for 15 minutes during storage if it contains fuel.
Economy Mode
Speaking of fuel efficiency, it would be worth pointing out that the efficiency of the Champion is made a possibility by the economy switch.
The economy switch, a standard feature in most inverter generators will allow the Champion to "power down" when no load is required. What it means is that unlike a standard generator which will run with the same speed, regardless of the load, the Champion will match the speed of its engine to that of the load.
This nifty fuel-saving feature not only makes the Champion economical; it has the added benefit of lengthening the life of the engine.
Conclusion
For an inverter the generator, the83.8 lb. weight is quite a bummer. But save for that downside, I think that it's hard to ignore that the Champion 3100 compares favorably with other big names in the industry such as Yamaha, and Briggs & Stratton.
The low price benefits, reliability, and ease of use are some of the reasons why I would highly recommend that you go for this model.